Space Glasgow Research Conference
Space Glasgow Research Conference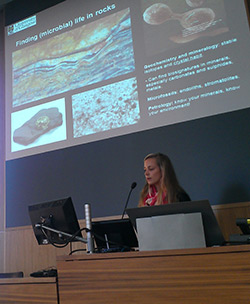 The 1st Space Glasgow Research Conference was held on 28th October 2014.
Postgraduate researchers and assistants gave an overview of the broad range of research topics of Space Glasgow. Topics and presentations are available here.
Special mention to Sarah Simpson, from the School of Geographical and Earth Sciences, who won the prize for the best presentation.
For further information contact
Download the presentations
Download the presentations
| | | |
| --- | --- | --- |
| 9:15 – 10:45 | Technical session 1: Planetary science | Downloads |
| Nick Rhys Thomas | Preservation and Detection of Molecular Signatures of Life under Mars-Analogue Conditions | |
| Xuan Li | Modelling and experimental validation of a Novel Ultrasonic Planetary Core drill (UPCD) Tool Design | |
| Helene Breton | The Nakhlite meteorites as representative of the Martian crust: What secondary minerals can tell us about the water source and physic-chemical conditions in Mars (sub)-surface. | |
| Thaleia Flessa | Taxonomy and systems' review of planetary exploration rovers | |
| Julia Stockamp | Is Glacio-Isostatic Adjustment continuing in Scotland? Insights from InSAR and GPS observations | |
| Adrienne Macartney | Investigating mineral carbon sequestration as a mechanism for the loss of the early martian atmosphere | |
| 11:15 – 12:45 | Technical session 2: Space technology | |
| David Moran | Diamond Electronics for Space | |
| Gary Stevens | Compact DUAL CHANNEL optical fibre amplifier for space communication applications | |
| Michael Perreur-Lloyd | Opto-mechanical Design for Space Science | |
| Clement Vourch | High Data Rate Communications in CubeSat Swarms | |
| Francesca Gnani | Air Breathing Propulsion: The Future of Access to Space | |
| Nicola Sullo | Hybrid propulsion for improving future space missions | |
| 13:30 – 15:00 | Technical session 3: Debris and small bodies | |
| Sittiporn Channumsin | A deformation model of flexible, high area-to-mass ratio debris under perturbations | |
| Malcolm McRobb | AEOLDOS – A novel space debris mitigation tool | |
| Paula Lindgren | Sample return from C-type asteroids - what will we bring back? | |
| Alessandro Peloni | Solar sailing, how to travel on a light beam | |
| Sarah Simpson | Searching for life in impact structures: stable isotope geochemistry and mineralogy of post-impact hydrothermal deposits of the Rochechouart structure | |
| Lydia Hallis | Water in Martian Meteorites | |
| 15:30 – 16:45 | Technical session 4: Astrophysics | |
| Iain Hannah | Studying the dynamic Sun | |
| Duncan Stackhouse | Modelling Electron Acceleration in Solar Flares | |
| Jade Powell | Astronomy with gravitational wave transients | |
| Qingying Shu | Characterisation of near-Earth Magnetic Field Data for Space Weather Monitoring | |
| Christian Killow | Precision measurement sensing for spaceborne gravitational wave detectors | |
| | Collaboration and funding opportunities | |
| Hina Bacai | Introduction to the Scottish Centre of Excellence in Satellite Applications | 5.1 Bacai - Scottish Centre of Excellence in Satellite Applications |
| Andy Powell | Background to the current Innovate UK "Innovation in the Space Sector Knowledge Transfer Partnerships" call | 5.2 Powell Black - KTN KTP |
| Gerry Black | Benefits of the scheme and how to apply | |