Screen's 50th Anniversary
Screen's 50th Anniversary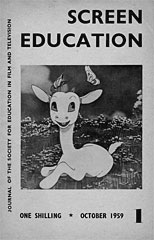 Screen Education, the journal that was to become Screen, was launched in October 1959. Between that date and October 1968, forty-six issues of Screen Education appeared. The journal's first issue under its new title appeared in January 1969 as volume 10, number 1.
During 2009, Screen hosted special events and celebrations to mark the journal's 50th birthday, including a the Anniversary Screen Studies Conference in July, a bumper issue of the journal (volume 50, number 1), and Screen-sponsored postgraduate research events. Details and reports of all the anniversary events are archived below.
Programme
Programme
7 November 2008

Launch event: Tate Modern, London

A rare screening of Sigmund Freud's Dora: A Case of Mistaken Identity was followed by a discussion with Alison Butler, John Caughie, Annette Kuhn, Mark Nash and Claire Pajaczkowska.

6 December 2008

Transnational East Asian Cinema: a Symposium and Videoconferenced Research Seminar Series
University of Southampton.

21 January 2009

Michel Chion, Audition Musicale and Film Sound talk : University of Edinburgh

Read report.

6 February 2009

Sound Design and Cinema: University of Edinburgh
Hosted in combination with the University of Edinburgh Music Department Sound Design MSc and Soundings Festival. Read report.

20 March 2009

The TV Classic: one day symposium, University of Warwick

Read report, Reflecting on Classic Television.

26-27 March 2009

Animation and Automation

26th March: University of Manchester. Speaker: Vivian Sobchack

27th March: Institute of Advanced Studies, Lancaster University

25 April 2009

Studies beyond the Screen: a symposium

University of Exeter

Read symposium report

1 May 2009

The Screen Anniversary Béla Balázs Symposium
Institute of Germanic and Romance Studies, University of London.
Speakers: Erica Carter, Sabine Hake, Hanno Loewy, Andrew Webber
View panel, poster and report.

23 June 2009

Screen event: Edinburgh International Film Festival
For the Love of Movies: The Story of American Film Criticism

Gerald Peary's entertaining documentary about the history of film criticism was followed by a discussion with Sight and Sound editor Nick James and Screen editor Professor John Caughie.

3-5 July 2009

50th Anniversary Screen Studies Conference

University of Glasgow

10-12 July 2009

Colour and the Moving Image - History, Theory, Aesthetics, Archive

University of Bristol. Speakers: Tom Gunning, Laura Mulvey.

Included All the Hues of Nature, a screening event about colour restoration.

15 August - 5 September 2009

50 Years of Screen: a display on Screen journal in the Bodleian library
View photograph of launch. View a slideshow of Screen covers from 1959 onwards.