im/material: Virtual encounters with material Worlds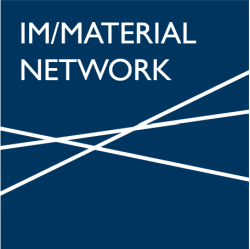 im/material: Virtual encounters with material Worlds
Mixed Reality technology and media sit at the intersection of material and immaterial worlds. As 'virtual realities' become increasingly integral to practice across a range of creative, design and academic disciplines this network will explore the impact of these new media on the way we work.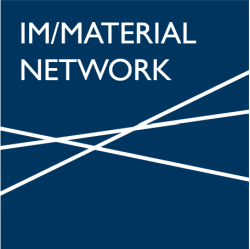 Motivations
Motivations
The network includes researchers and practitioners from a range of backgrounds including (but not limited to):
Archaeology
Game design
Heritage
Architecture
Media Art
Computer Science
Theatre
Sculpture
Art history
Through a series of panel discussions and workshops we will ask:
What are the implications of carrying out work that is fundamentally about material things using technologies and media that incorporate the immaterial in new and significant ways?
What are the genuine affordances of immersive media for research and practice?
How might immersive technologies transform research practice in the next decade?
How can research applications of immersive media inform the development of immersive media in other sectors such as the games industry and media art?
This project brings together groups of speakers from across academia, the public sector and industry to engage with these questions through a series of panel discussions.
Goals
Goals
Building a community of practice around the production of innovative and experimental immersive media, bringing together Scottish researchers and creative businesses at the leading edge of innovative immersive media production.
Creating opportunities for collaboration, knowledge transfer, and the development of partnerships that will enable new projects.
Highlighting current work and opportunities in creative, research driven use of VR, AR, XR and Immersives.
Events
IM/MATERIAL EVENT #2:
PLAYING IN IM/MATERIAL WORLDS
VIRTUAL ENCOUNTERS WITH MATERIAL WORLDS
When: 13 May 2019
Join us for a full afternoon of activities:
14:00-15:00 - Guided tour of Abertay Digital Graduate Showcase
Abertay Student Centre
15.00-16.00 Games and Immersive Showcase
Hannah Maclure Centre Gallery
16.00-18.00 Panel Discussion
Hannah Maclure Centre Cinema
Where: Hannah Maclure Centre, Abertay Student Centre, Abertay University
Games transcend material and immaterial worlds. We play with things, but also with imaginary things; we play in places, and also in imagined places. As immersive experiences become a part of how we play, how do our games and our practices of game design change? Experimental, playful and provocative approaches to game design can help us to rethink the intersection between material and immaterial worlds.
The Playing in im/material Worlds event will be based around a series of questions including: How can best practices and theories from game design be used to frame and develop our understanding of immersive experiences? How are digital, immersive games designed for public spaces, and how can site-specific digital games make complementary use of material and immaterial objects? How do we approach storytelling using emerging immersive technologies? What opportunities for storytelling are afforded by the blurring between immaterial (virtual) and material (physical) worlds?
---
Panel Speakers:
Simon Meek (The Secret Experiment, Glasgow)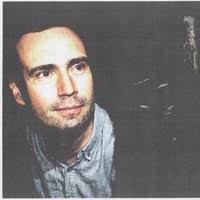 Simon Meek is the V&A Dundee's first Designer in Residence, mixed-media storyteller and founder / creative director of The Secret Experiment: videogame development studio and indie label. His work spans game, narrative and graphic design.
Contact: simon@thesecretexperiment.co.uk
Website: https://thesecretexperiment.co.uk/
---
Sandy Louchart (The Glasgow School of Art)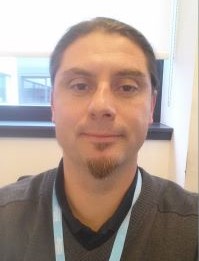 Sandy Louchart is Head of Undergraduate Programmes at the School of Simulation and Visualisation at The Glasgow School of Art. His research investigates the domains of Interactive Storytelling (IS) via the development of the Emergent Narrative concept and autonomous characters.
Sandy's current interest in the Interactive Digital Narratives area is focused on bridging the knowledge gap between Artificial Intelligence constructs for IDN, authors and writers.
Contact: S.Louchart@gsa.ac.uk
Website: http://www.gsa.ac.uk/research/simvis-profiles/l/louchart,-sandy/
---
Mona Bozdog (Abertay University)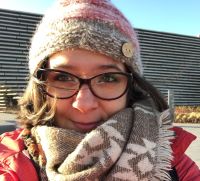 Mona is an experience designer and a Lecturer in Immersive Experience Design at Abertay University. Her research is practice-based and focuses on the convergence of contemporary performance practices and video games, particularly designing hybrid forms of storytelling, performative games, mixed-reality and immersive experiences and games for public spaces and heritage sites.
Contact: m.bozdog@abertay.ac.uk
Website: https://www.performingplay.co.uk/
---
Lynne Love (Abertay University)
‌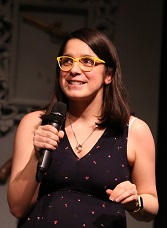 Lynn Love is a lecturer in animation and interactive media at Abertay University who, when not teaching, makes interactive work that blurs physical and digital boundaries aiming to make the world more playful. As part of Abertay Game Lab, she is channeling these playful interventions into academic research having recently completed her PhD thesis about bringing people together through play. When she's not teaching, making game controllers out of tinfoil and kids toys, scribbling with chalk around Europe or out and about with her Beagle, Snoopy, you can find her random thoughts and adventures on twitter as @toadrick.
Contact: l.parker@abertay.ac.uk
Website: https://www.abertay.ac.uk/staff-search/dr-lynn-love/
---
Moderator:
Robin Sloan (Abertay University)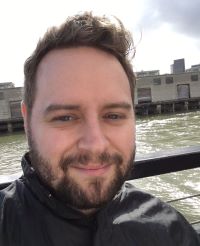 Robin Sloan is a Senior Lecturer in Game Design and the Creative Industries theme leader at Abertay University. His research investigates the role of personal and collective memory within games culture, including the representation of remembered and remediated spaces in game worlds and systems, nostalgia as a critical frame for games analysis and playable game criticism, and gaming nostalgia within fan culture.
Learn more about Robin's work at: https://www.robinjss.co.uk/
---
IM/MATERIAL EVENT #1:
PLACE AND PERFORMANCE
VIRTUAL ENCOUNTERS WITH MATERIAL WORLDS
When: 15 April 2019, 16:00-18:00
Where: Kelvin Hall Lecture Theatre, University of Glasgow
What impact will immersive experiences have on public space? Public places are where we interact with one another; where we gather to perform our daily social rituals, observe our neighbours, and interact. Our use of space is shaped by a range of organizational, aesthetic, and functional factors. The materiality of space overtly and subtly shapes our interactions with and within these environments. The impact which immersive experience will have upon our experience of places remains poorly understood.
Understandings of the interplay between place and human behaviour is underpins a wide range of fields, from marketing to architecture to anthropology. This event brings together speakers from research and industry to focus on the key research areas and drivers related to place and performance.
The im/material Place and Performance event will be based around a series of questions including: What happens when we introduce immersive technologies that add a new set of immaterial cues to public spaces? How do individual digital experiences, AR or XR experiences in public spaces affect interactions that have developed assuming a shared place-based context? Can immersive technologies and experiences be used to affect positive changes in public interactions? How might immersive experiences help us to understand social and performative uses of built spaces?
---
Speakers:
Stuart Jeffrey (Glasgow School of Art)
Stuart Jeffrey is Reader in Heritage Visualisation at the School of Simulation and Visualisation, The Glasgow School of Art. His work at the School of Simulation and Visualisation covers all aspects of heritage visualisation and the use of new technologies to create records, analyse, interpret, and present every form of heritage from built to intangible. Stuart's research interests focus on how these technologies transform the relationships between individuals, academia and broader contemporary communities of interest and the heritage in question, and how they can be deployed for the benefit of communities and the places in which they live.
Learn more about Stuart's work at: http://www.gsa.ac.uk/research/simvis-profiles/j/jeffrey,-dr-stuart/
---
Malath Abbas (Biome Collective)
Malath Abbas is a game designer, artist and producer working on experimental and meaningful games. He is a founding member of Biome Collective, Scotland's first game collective and co-working space in order to support a community of sustainable independent game makers, and to foster cross sector collaboration.
Learn more about Malath's work at: http://www.malathabbas.com/
---
Catherine Clarke (School of Advanced Study, University of London)
Catherine Clarke is Chair in the History of People, Place and Community at the Institute of Historical Research. Her research explores intersections between place, power and identity in the medieval period. She leads an institute to develop research, training and public engagement activities that demonstrate the scholarly value of the history of people, place and community. Her work is collaborative and interdisciplinary, and involves digital methodologies and creative practice.
Learn more about Catherine's work at: https://theconversation.com/profiles/catherine-clarke-613366
---
Moderator:
Rachel Opitz (University of Glasgow)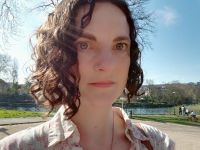 Rachel Opitz is a lecturer in Archaeology. Her research spans across diverse applications of digital technologies in archaeology, from remote sensing of forest landscapes in Europe and the Mediterranean through using immersive digital media to investigate human perception of the built environment and objects. Her work explores and reflects on the impact of the emergence of new technologies and methods on research and practice in the humanities.
Learn more about Rachel's work at: https://www.gla.ac.uk/schools/humanities/staff/rachelopitz/
Information on more upcoming events, including dates, venue and speakers will be available soon.
Supported by