News
Virtual IMID-Bio UK Science Meeting - Friday, 11 June 2021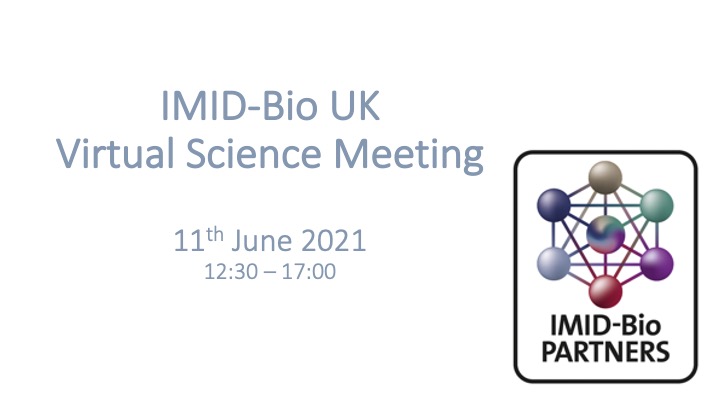 On Friday, 11 June 2021, Prof Iain McInnes welcomed many interested parties and partners to a stimulating afternoon of scientific talks and discussions. Due to ongoing restrictions the 2021 IMID-Bio UK Science Meeting was held virtually on zoom.
Prof John Isaacs was moderating the first session with the new IMID-Bio UK partners CLUSTER Consortium and A-STAR – The UK-Irish Atopic Eczema Systemic Therapy Register. It was great to have CLUSTER Lead Prof Lucy Wedderburn and Assoc Prof Michael Ardern-Jones, chair of the A-Star steering committee, presenting their work and synergies with IMID-Bio UK.
In the second session, the Bioinformatics team with Prof Mike Barnes, QMUL, Dr Thomas Otto, UofG, Sandra Ng, QMUL, and Dr Rafael Henkin, QMUL, discussed the creation of the robust and reproducible pipeline for Pan-IMID analysis. The team also impressed listeners with their live and instant data analyses presentation on TranSMART.
The third session, moderated by Prof Iain McInnes, was focussing on IMID-Bio UK deliverables and outlook. First, Prof Wan-Fai NG, University of Newcastle, presented on the new IDEA-FAST project - identifying digital endpoints to assess fatigue, sleep and activities in daily living in neurodegenerative disorders and immune-mediated inflammatory diseases.
Dr Myles Lewis, QMUL, was presenting the RNA-Seq analysis of the R4RA trial and discussing whether response can finally be predicted?
The last talk of the day was by Prof Nick Reynolds, University of Newcastle. Prof Reynolds offered very interesting insights on PSORT and new analyses across skin and blood.
Everyone enjoyed a pleasant afternoon of scientific talks and discussions on cross-disease multidisciplinary research into shared immunological pathways.
Thank you to everyone who attended and contributed to the IMDI-Bio UK Science Meeting 2021. A special thank you to all the presenters and to everyone for the interesting discussion and collaboration.
Archive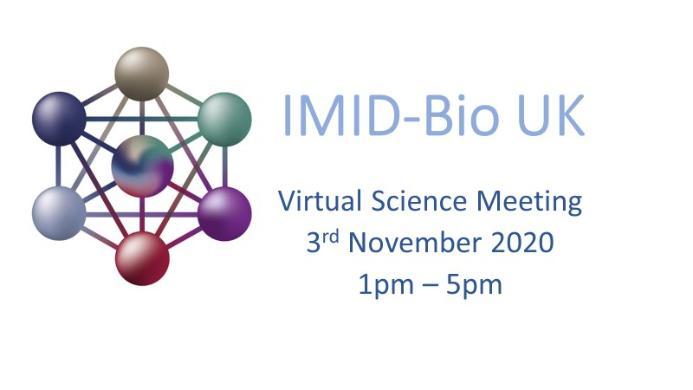 IMID-Bio UK Science meetings
As IMID-Bio UK enters its third year we have now held one opening meeting in Glasgow and face-to-face Consortium Meetings in Cambridge and Manchester, respectively. The Science meeting due to be held in Newcastle in June 2020 had to be postponed due to the ongoing UK response to COVID-19. But on Friday, 3rd November 2020, Prof Iain McInnes welcomed 60 interested individuals from across the IMID-Bio UK network to our first virtual IMID-Bio UK Science meeting.
The first session, chaired by Prof Mike Barnes, QMUL, discussed the intra- and inter-disease clustering in immune mediated inflammatory diseases (IMIDs) followed by a scientific update by Prof Chris Griffiths, University of Manchester, on the stratification on Psoriasis and Dr Arthur Pratt, Newcastle University on Methylation profiling to understand mechanisms of genetic risk in immune mediated disease.
In the third session, Dr Frédéric Baribaud, Sr. Director, Translational Sciences, Janssen, and Dr Stephen Simpson, Director of Research, Versus Arthritis gave an overview of Industry and Charity partners point of view, followed by an open discussion.
Thereafter attendees joined the 'Trainee Round Table' and received eight outstanding presentations from Research fellows and PhD students from the Universities of Manchester, Newcastle, Glasgow and QMUL.
The meetings strengthened our links within the academic partners, enhanced engagement with our charity partners, enabling the transfer of knowledge, experiences, and exemplars of good practice in biobanking, data integration and analysis. This has enabled strategic development of future research goals and further addressing of the original purpose of the resource.
The next Science meeting is planned for June 2021. While everyone is looking forward to getting together in person again soon, it has been decided to have another virtual gathering on zoom due to the ongoing situation and uncertainty.
TranSMART workshop
In June and December 2020, Prof Mike Barnes, QMUL, and Dr Thomas Otto, University of Glasgow, conducted two online TranSMART data analysis workshops.
After a short introduction to TranSMART, every participant could perform fundamental analysis in the database based on their own research questions. Industry partners and all stakeholders were invited to the December workshop to discuss scientific and clinical questions driving future research.
Both workshops were very successful and a third TranSMART session is planned for the June 2021 Science meeting.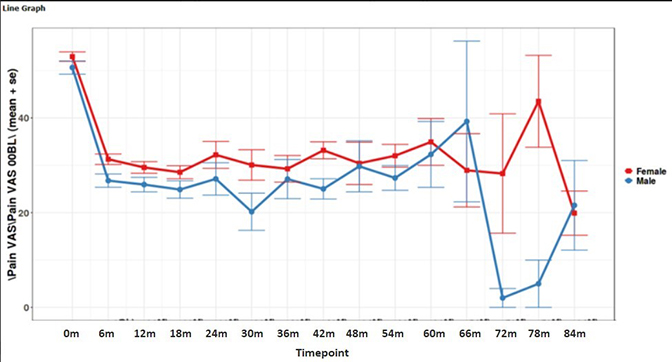 Figure 1. IMID-Bio TranSMART data visualisation example (PAIN VAS over 84 months, compared by gender).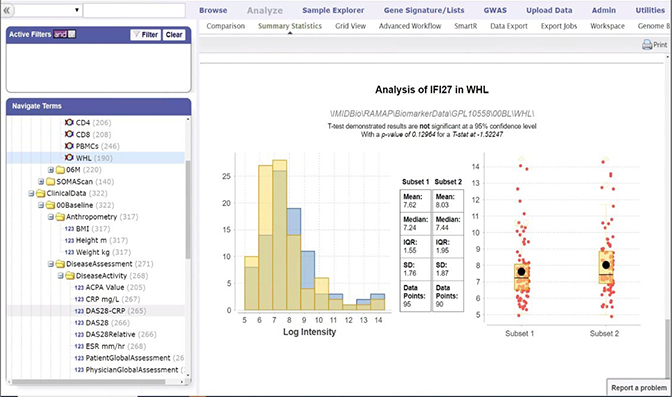 Figure 2. IMID-Bio TranSMART transcriptomic analysis exemplar.
July 2018
Our latest newsletter is out today. Please follow link to read it; or download a pdf copy: Summer Newsletter.
June 2018
The 2017 / 2018 'Don't Delay, Connect Today' is a EULAR Campaign that, for the first time, engages all three EULAR pillars – patient organisations (PARE), health professional associations and scientific communities. Rheumatic and musculoskeletal diseases (RMDs) often receive delayed or no diagnosis.
As many of us know, early diagnosis is key to preventing further damage, but a diagnosis of RMDs is often delayed or is never given.This is often due to a lack of awareness, reducing peoples' quality of life and affecting physical abilities. The EULAR Campaign aims to raise awareness of the importance of early diagnosis in preventing further damage to those living with RMDs, and to encourage timely access to evidence-based treatment.
A few months ago a group of researchers from the University of Glasgow working on a variety of rheumatic and musculoskeletal diseases took on the challenge of the Hebridean Cycle Way to raise money for the National Rheumatoid Arthritis Society (NRAS). NRAS provides incredible support to people from all around the UK affected by rheumatoid arthritis. The aim of this campaign is to raise awareness of the importance of early diagnosis for diseases like rheumatoid arthritis. The group cycled 185 miles in 4 days across 10 islands via 6 causeways and 2 ferries. They actively promoted the European League Against Rheumatism's (EULARs) 'Don't Delay Connect Today' campaign along the way and have raised £2,872.77 so far. It's not to late to sponsor the team tho, just hop over to their Just Giving page to send them a congratulations and a donation.
March 2018
Over 35 individuals from across the IMID-Bio-UK Network gathered in Glasgow to review, discuss and shape the strategic direction of IMID-Bio-UK. Hosted at the Radisson Blu Hotel, in the rather quirky King Tut Room, each of the clinical trials to be integrated within the IMID-Bio-UK tranSMART system were represented, along with representatives from both our industry and charity partners. A follow up meeting will be held in the coming months to keep the momentum going on our project.