Ethical interpreting in health care settings
‌How do practitioners, interpreters and service users work through the challenges of intercultural communication in health care settings?
What can we learn from their experiences?
Where do they need support?
This 2 year interdisciplinary research project explored the experiences of practitioners, interpreters and service users who are grappling with issues and challenges of intercultural communication in clinical and non-clinical health care settings. Using an innovative mixed method design, we have produced 5 short films and supporting materials to help develop a more reflexive practice, and provide stimuli for debate on how to address the complexities of working in and through different language contexts. This project is of significance for the development of Scotland's future generations of health care providers and interpreters.
click here to access the project resources: Interpreting in Health Care: Educational Resources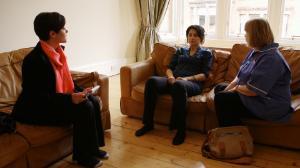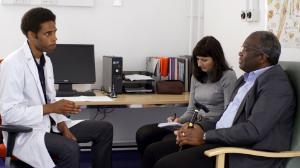 Research Design
Literature Review
Qualitative Interviews with 19 participants
Data Analysis
13 Possible Scenarios
5 Film Scripts
Drama Workshops
5 Short Films (online/DVD) & Learning Materials
Project Outputs
The project has produced a range of outputs: 5 short films available online and on DVD (Vimeo and Youtube); Online learning materials and supporting document; Project Website which provides a repository for the material and links to useful related sites; Project dissemination at different conferences to a wide range of academic and non-academic audiences and stakeholders; and publications which have been commissioned, under review or in preparation.
Project Team
Principal Investigator: Professor Alison Phipps
Post Doctoral Research Associate: Dr Teresa Piacentini
Co-investigators: Dr Ima Jackson, Dr Niamh Stack, Prof Kate O'Donnell
Non-HEI Partner: Tanveer Parnez (BEMIS)
Funders
To find out more about this project, please get in touch with Teresa Piacentini Teresa.piacentini@glasgow.ac.uk or Alison Phipps: Alison.phipps@glasgow.ac.uk