Scottish National Poet, Jackie Kay, reads her poem reflecting on the University of Glasgow's past links with slavery and new partnership with The University of the West Indies
August 23, 2019
Founding of the centre
The Glasgow-Caribbean Centre for Development Research (GCCDR) is a joint initiative between the University of Glasgow and The University of the West Indies.
It was established in 2019 when an historic Memorandum of Understanding (MoU) committing the two universities to work together was signed in Kingston, Jamaica on 31 July and in Glasgow on 23 August 2019.
Professor Sir Anton Muscatelli and Professor Sir Hilary Beckles sign the MoU between the two universities
The MoU was one of a series of recommendations that emerged from a report, 'Slavery, Abolition and the University of Glasgow', conducted by the University of Glasgow in 2018 examining its links with historical slavery.
The report acknowledged that whilst the University of Glasgow played a leading role in the abolitionist movement in the 18th and 19th centuries, the institution also received significant financial support from people whose wealth was derived, in part, from slavery.
The University of Glasgow has committed to raising £20 million via the centre for joint work on topics relevant to the Caribbean nations over the next 20 years. It is expected that the bulk of the funding will come from research grants and benefactions and that the centre will be self-supporting.
The aims of the GCCDR are to:
Facilitate research work
Coordinate academic collaborations with other universities
Host events and activities
Stimulate public awareness about the history of slavery and its impact around the world
The impetus for this collaborative centre emerged from both the UWI's central role in the international campaign for reparations for slavery and the University of Glasgow's research into its own role in profiting from the transatlantic slave trade and slavery.
For that reason, alongside the activities of the GCCDR, the University of Glasgow is committed to further exploring and sharing the university and the city's links to slavery and the slave trade, through the Beniba Centre for Slavery Studies.
Scottish National Poet, Jackie Kay, reads her poem reflecting on the University of Glasgow's past links with slavery and new partnership with The University of the West Indies
August 23, 2019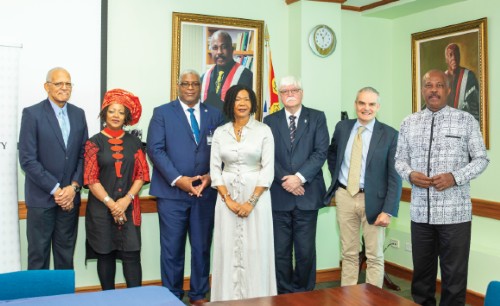 Board of Directors
Professor Simon Anderson, Director of the George Alleyne Chronic Disease Research Centre, University of the West Indies (UWI)
Professor Sir Hilary Beckles, Vice-Chancellor of UWI
Professor William Cushley, University of Glasgow (UofG)
Dr David Duncan, University of Glasgow (UofG)
Professor Stephan Gift (UWI)
Professor Clive Landis (UWI)
Professor Roibeard Ó Maolalaigh (UofG)
Professor Jude Robinson (UofG)
Professor Naveed Sattar (UofG)
Professor Verene Shepherd (UWI)
Dr Sonjah Stanley Niaah (UWI)
Dr Christine Whyte (UofG)