Influenza A virus

Influenza A viruses (IAV) are enveloped, single-stranded negative-sense RNA viruses and are classified within the family Orthomyxoviridae. IAV particles vary in size and shape, and show significant variations among strains, being either spherical or filamentous. Clinical isolates, in particular, frequently form filaments that can be many microns long.
IAVs cause seasonal epidemics in which many millions of people worldwide become infected. The emergence of these strains are influenced by molecular, evolutionary and ecological factors, however, the relative contributions of these factors are unknown.
Researchers at the CVR are seeking to understand the role of evolution, ecology, and molecular adaptations on viral emergence by combining phylogenetics and reverse genetics technology with experimental infections in powerful lab-based culture systems.
The influenza viruses under study include those of human, dog, horse, pig and bat; indeed, two new strains were recently discovered in American bats, but little is known about their epidemiology in natural bat communities.
Contact: Pablo Murcia, Daniel Streicker, Edward Hutchinson
[Top]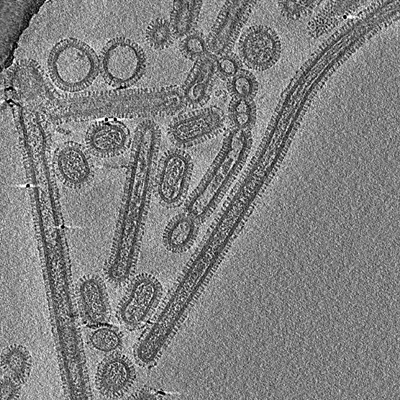 Section through a tomogram of purified influenza A Udorn/72, a filamentous strain.
CVR researchers are also investigating the structure and function of filamentous forms of IAV to establish how these particles form and initiate infection. They use cryogenic electron tomography to determine how virion proteins come together to form filaments, and are developing methods to image the infectious process to high-resolution in biologically relevant tissue under cryogenic conditions.
Contact: David Bhella