Human Immunodeficiency Virus (HIV-1)
Human immunodeficiency virus 1 (HIV-1), the virus responsible for the AIDS pandemic, has infected nearly 75 million people since it entered human populations around a century ago. The emergence of HIV-1/AIDS went largely unnoticed for over half a century before being recognized as a global health threat in the 1980s. HIV-1 infection is currently incurable and if left untreated, the majority of infected individuals will progress to AIDS. Although no effective vaccine exists, HIV infection can be manageable as many effective antiretroviral drugs are now available. When given in combination, these antiretrovirals can potentially lower viral loads for decades, delaying or eliminating the progression to AIDS.
Research in the CVR is focused on understanding the ability of our antiviral defences to block the replication of HIV-1 and related simian immunodeficiency viruses (SIVs). We hope to learn the molecular details of how these viruses overcome the defences of a 'new' host, in order to understand the cross-species transmission, emergence and establishment of immunodeficiency viruses in human populations.
Contact: Sam Wilson

[Top]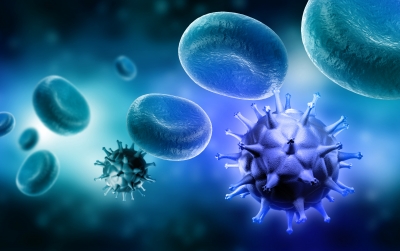 Image of HIV and blood cells courtesy of dream designs. Source: www.freedigitalphotos.net