Global Challenges Research Fund project to prime the elimination of hepatitis C virus (HCV) in Sub-Saharan Africa
In 2019 the CVR gained funding from the Global Challenges Research Fund via the Scottish Funding Council for a project funded until June 2020 to support hepatitis C elimination strategies in Sub-Saharan Africa. The project will set up an administrative and clinical HCV network for Sub-Saharan Africa and work towards the development of regional diagnostic and treatment strategies.
This project will also scope future work on the identification and effective treatment of hepatitis C variants in Sub-Saharan African population sub-groups where the virus is most prevalent.
The rationale for the focus on Sub-Saharan Africa is that the pathway towards successful elimination of hepatitis C in the region is currently unclear; no large-scale clinical studies have been carried out to either identify circulating hepatitis C genotypes or to evaluate responses to treatment. There is also an urgent need to identify the specific socio-economic and clinical challenges that will affect any elimination strategy for Sub-Saharan Africa and identify ways to address these challenges.
An example of the clinical challenges facing the region is the growing evidence to suggest that treatments commonly used in high income countries may be less effective in Sub-Saharan Africa. In support of this theory, our group recently found that genotype 4r (a genotype rare in Europe or the USA, but prevalent in Central Africa) was associated with a reduced response rate to the treatments that are most effective in high-income countries.
Project leads
Prof. Ponsiano Ocama is an experienced hepatologist based at Makerere University, Kampala, Uganda. Prof. Emma Thomson leads a research team focusing on hepatitis C and emerging viruses at the CVR
Approach
We aim to develop a Sub-Saharan African network of clinical hepatitis C and blood transfusion specialists to treat HCV and establish administrative links with blood transfusion centres (where HCV testing is often carried out routinely) and international agencies currently working with HCV (MSF and WHO). During the first phase of the project we will engage with 10-12 Sub-Saharan African countries. As part of establishing this network, we intend to:
identify at least one healthcare professional qualified to treat HCV, one key administrative contact, one individual with access to blood transfusion screening results and one key policymaker in each Sub-Saharan Africa country
identify producers of generic HCV medications and sources of information on medication efficacy and costs in each country in the network
establish the framework for an HCV Sub-Saharan Africa Biobank resource
Once established and formalised, the network will be well placed to act as a resource for the establishment of national treatment strategies.
The project is a collaboration between Makerere University and the CVR. Project administrators are employed at both sites to ensure effective coordination.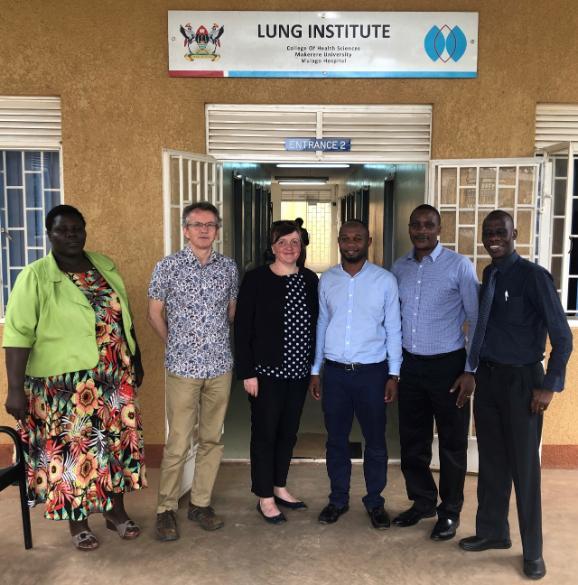 Meeting at Makerere University. (Prof. Thomson 3rd from left, Prof. Ocama 1st from right)
The development of an HCV treatment network for Sub-Saharan Africa will provide a platform for the development of expertise in diagnosing and treating HCV in the region. Teleconferences for interested parties will be held on two occasions during this phase of the project to explore the needs and gain inputs from participants from each country.
The treatment network will facilitate contact between individuals interested in developing treatment strategies in Sub-Saharan Africa and also work towards strengthening local capacity.
In the next stage of the project we aim to identify the predominant genotypes circulating in participating countries in order to provide advice about optimal treatment regimens for affected populations.
Progress to date
Collaborative working between the team at the CVR and Makerere University has resulted in an initial network of members across Sub-Saharan Africa being identified.
A first teleconference was held on 6th April 2020 to build on the contacts, inform members and share vision and knowledge.
Surveys administered to treating physicians and blood-bank representatives in 10 Sub-Saharan Africa countries
Second teleconference due at end June 2020