Richard Elliott Bio-safety Laboratories (REBL)
The Richard Elliott Biosafety Laboratories (REBL) Containment Level 3 (CL3) suite provides our researchers with the cutting-edge equipment and technology they need to study diseases that could pose a threat to humans and animals, in a safe and secure environment.
The facility is named in memory of the eminent virologist Professor Richard Elliott, who was instrumental in its conception and design.
The laboratories have been specially designed to enable safe handling of pathogens which require CL3, including ACDP Hazard Group 3, SAPO3 and Class 3 agents. Infectious agents are classified depending on their risk to human health, into 4 groups, 1-4. Hazard group 3 agents include viruses which can cause severe disease and pose an environmental risk.
This facility enables us to respond rapidly to new emerging and re-emerging disease threats. It also enables us to collaborate with clinical and veterinary colleagues, as well as with research and health facilities worldwide in the fight against viral pathogens. In addition, we use the facilities to train specialists in the handling of high hazard group agents.
Researchers use REBL to perform fundamental research on virus life cycle, virus-host interactions and associated pathogenesis. The results obtained inform development of antiviral and preventative strategies. Activities in REBL include virus culture, live cell microscopy, high throughput antiviral drug screening, arthropod infection/transmission in mosquitoes and ticks, pathogenicity studies, and handling of unknown viral pathogens. The suite of laboratories consists of two cell culture laboratories, a high throughput-screening (HTS) laboratory, a bio-room, a bio-anteroom, two insectaries, and an equipment room.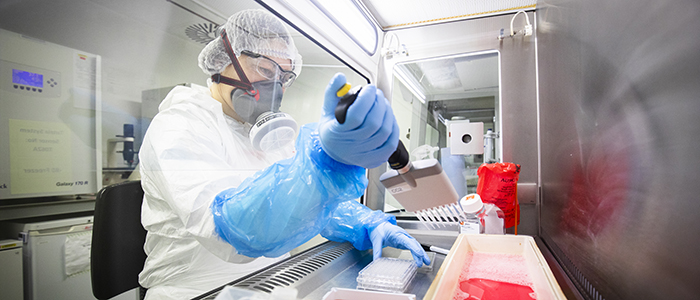 REBL houses an array of specialised equipment including:
flexible filmed HEPA filtered isolators
microbiological safety cabinets
a FACS cell sorter
robotics equipment
ultra-centrifuges
ultra-low temperature storage
incubators
analytical equipment including live cell imaging
A safe environment
Microbiological Containment laboratories range from levels 1-4, and REBL is at Containment Level 3, meaning all work in this area is tightly controlled. Access to, and operation of, the REBL suite requires a high standard of regulation. All research is evaluated and must be approved in advance while personnel undergo a comprehensive training schedule prior to working in the facilities.
The environment within REBL is under negative pressure, with airflow controlled using a specialist filtered system. This means it can be easily sealed and fully disinfected when required.