Research areas
Research areas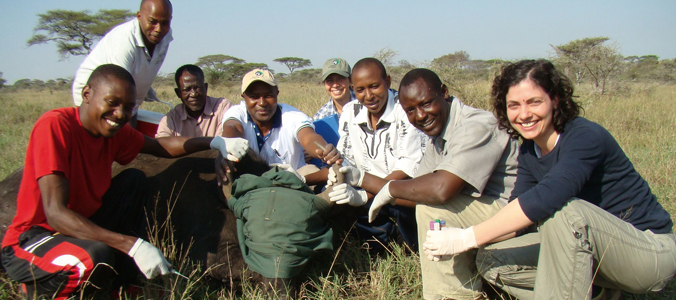 Population and ecosystem health is by its nature interdisciplinary. It requires a tight weave of ideas from ecology, epidemiology, and genetics applied across a variety of domains including terrestrial and aquatic ecology, veterinary epidemiology and evolutionary biology. Expertise within the Boyd Orr Centre reflects this diversity, and most of our research is located within the intersections of existing disciplines - mainly those of population ecology, epidemiology, and population genetics.For particular details of individuals research portfolios we recommend you examine researchers personal web-pages (see People), but here we offer a brief overview of our activities.
Population genetics and epidemiology
Population genetics and epidemiology
Many of our activities are located at the interface of epidemiology and population genetics. To fully understand the epidemiology of viral pathogens it is useful to study their population genetics, and how the micro-evolutionary process (or phylodynamics) that is driven by mutation dynamics within cells, is manifest at higher scales (individuals, groups, populations, and landscapes) after the influences of selection, recombination, and transmission have acted. Within the group, Roman Biek (rabies, ebola), Sarah Cleaveland (rabies), Dan Haydon (FMDV, rabies), and Marco Morelli (FMDV with IAH-Pirbright, and Plum Pox Virus, with INRA, France) all have research interests that relate to this area. Rowland Kao has similar interests in using genetic markers in Bovine Tb to inform the transmission dynamics of this bacterial pathogen.
What we hope might be neutral genetic differences in pathogens are useful as tracers of pathogen movement, but non-neutral genetic differences are increasingly appreciated to play a critical role in transmission heterogeneity. Louise Matthews has general interests in how strain structure affects transmission dynamics, studying this in E. coli and Salmonella infections. Members of the group (Stuart Reid, Dom Mellor, Alison Mather, Dan Haydon) are also interested in the spread of antibiotic microbial resistance - and its potential exchange between human and livestock and wildlife populations, particularly Salmonella and Campybacter. It is of course not only pathogens that are genetically diverse. Host genetic variation is also a critical source of transmission heterogeneity, and this is an area research developed by Mike Stear and Louise Matthews (ovine nematodes), and Barbara Mable and Clare Marsden (effects of MHC on host-pathogen interactions).
The importance of population genetics is also manifest at smaller temporal and spatial scales. We have particular interests in rapid within host evolutionary processes. Members of the Centre work on the antigenic dynamics of trypanosome infections and the forces that drive the evolution of the architecture of the tryp VSG archive (Christina Cobbold, and Dan Haydon, with Dave Barry in the Wellcome Centre for Molecular Parasitology); methods to compare the antigenic cross-reactivity of different viral capsids of the same viral species - essential to the design of viral vaccines for FMDV and Influenza (Richard Reeve, Dan Haydon); and the process of repeat mutation that relates to the timing and severity of myotonic dystrophy (Catherine Higham, Darren Monckton, Christina Cobbold, and Dan Haydon).
Epidemiology and population ecology
Epidemiology and population ecology
Clearly epidemiology is bound up in the distribution and abundance of pathogen host populations. Most members of the Centre would identify interests within this intersection. Examples would include the control of rabies and canine distemper in domestic dogs in developing countries (Sarah Cleaveland, Heather Ferguson, Dan Haydon); the inclusion of vector behavioural ecology into integrated vector control programmes to control malaria (Heather Ferguson, Jan Lindstrom); control of canid viral diseases in Ethiopian wolves and African Wild Dogs (Dan Haydon, Louise Matthews, Clare Marsden, Sarah Cleaveland); the persistence of pathogens in populations of different sizes (Roman Biek); the use of network theory to study the spread of livestock pathogens (Rowland Kao);and the identification and control of pathogens in animal reservoirs (Sarah Cleaveand, Louise Matthews, Dan Haydon, Rowland Kao); the analysis of epidemiological risk (Kath O'Reilly, Dominic Mellor, Stuart Reid), and dynamics of co-infections and within-host pathogen community effects (Isabella Cattadori) - but this is to name but a few, and our interests in this area are legion.
Population ecology and conservation
Population ecology and conservation
We include in our concept of population health the sustainability and persistence of populations, and we are therefore interested in aspects of population ecology that touch on population change, and population conservation. The Centre has research programs examining the impacts of livestock grazing in the Bale Mountains National Park in Ethiopia (Flavie Vial, with WILDCRU, Oxford), the population ecology of upland birds in the UK (Douglas Kerlin, with Simon Thirgood at the Macaulay Institute); the population dynamics of Scottish mountain hares (Sunny Townsend, Annabel Harrison, with Scott Newey, and Simon Thirgood, Macaulay), the cumulative impacts of wind farms on bird populations (Liz Masden with SNH and Bob Furness); and at a more theoretical level, the use of game theory to understand host-pathogen interactions and their emergent effects on population dynamics (Dan Haydon with Steve Redpath - Aberdeen, and Sasha Dall - Cornwall); and how the stability of food-webs varies as a function of ecological complexity (Sunny Townsend).