Rabies elimination is within our grasp, if only we choose to do so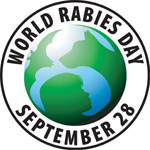 World Rabies Day is held on 28th September each year, and is sponsored by the Global Alliance for Rabies Control - a leading charity for which Prof. Sarah Cleaveland in our Institute is a founding director. The day is an occasion to unite people against rabies and to raise awareness about this deadly disease, which despite being wholly preventable still kills over 69,000 people each year, primarily those living in poor and rural communities in Africa and Asia, with children most at risk.
This year the theme of World Rabies Day this year was #togetheragainstrabies, which celebrated the relationship between humans and dogs and raised awareness about the mutual benefit to each of canine rabies vaccination.
In keeping with this theme, members of our Centre wrote several perspective pieces on rabies control. The first, which is freely available, highlights how integrated - or 'One Health' - approaches are at the heart of all successful rabies efforts. Continuing a conversation among veterinary practitioners and researchers, the piece presents rabies control as a test case to promote strong partnerships and communication between animal and human health sectors.
A second paper, published Friday 26th September in the prestigious journal Science, sets out the reasons why rabies is a neglected priority and how canine rabies elimination meets all the criteria for a global health priority. Underpinned by research driven by our Institute members, this policy piece sets out a cost-effective and achievable strategy for eliminating rabies, but will need the political will, funding and effective cross-border cooperation to be realised.
Following the release of the Science paper, Dr Katie Hampson - Wellcome Trust Research Fellow in the Boyd Orr Centre and Institute of Biodiversity, Animal Health & Comparative Medicine - wrote a perspective piece for The Conversation UK discussing the consequences of rabies in people and the requirements for control.
30 August 2014
(Open Access)

Rabies control and elimination: a test case for One Health

One Health approaches have already been shown to be successful in controlling rabies in different parts of the world.

In this article, the latest in Veterinary Record's series promoting One Health, Prof Sarah Cleaveland and colleagues discuss why integrated strategies are needed to enhance the cost effectiveness of measures to control and eliminate rabies, particularly in low-income countries.

About the authors

Prof. Sarah Cleaveland
Dr Felix Lankester
Dr Sunny Townsend
Dr Tiziana Lembo
Dr Katie Hampson
'Rabies demonstrates one of the enduring dilemmas that hampers the control of zoonotic diseases, in that the costs and benefits of control measures are often not distributed equitably across sectors. It is the human health sector that derives the public health and economic benefits from canine rabies control... However, it is the veterinary services that generally incur the costs for canine rabies control, but derive few economic benefits, as domestic dogs are not an economically valuable species.'
'Without a sharing of costs and benefits across sectors, there may be little incentive for veterinary services in low-income countries to prioritise investments for rabies control, rather than for economically important diseases of livestock...'
---
First published: 25 September 2014