Dissertations
Dissertations
Example Dissertation Topics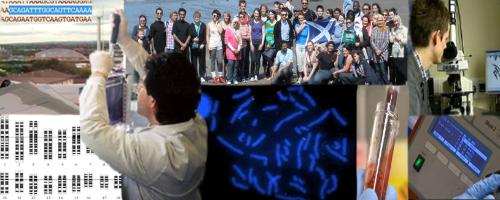 Recent dissertation projects include the following:
Whole exome sequencing in clinical assessment of resistant hypertension: This investigation, carried out in the research group of Professor Sandosh Padmanabhan analysed the whole exome data of two true resistant hypertension probands with the aim of narrowing down the possible genetic variants associated with resistant hypertension so that improved therapeutic targets might be identified in the future.
Investigation of a minor groove-binding polyamide to inhibit E2F1 in chronic myeloid leukaemia: This project was carried out in the research laboratory of Dr Heather Jørgensen treating CML cells in culture with synthetic polyamides designed to inhibit E2F1 transcriptional activity, with the aim of evaluating the therapeutic potential of polyamides either alone or in combination with existing targeted therapies.
Baraitser-Winter cerebrofrontofacial syndrome: an actinopathy with a wide phenotypic spectrum: In collaboration with NHS clinical geneticists from the West of Scotland Genetics Service the phenotypic features together with the identified pathogenic DNA variants for a series of patients were analysed in order to clarify the link between genotype and phenotype for this condition.
Transcriptional activation of erythroid transcription factor genes using CRISPR effectors: In this project, carried out in the research laboratory of Dr Adam West CRISPR effector technology was used to study the role of three transcription factor genes in the regulation of β-globin like genes, and the foetal to adult haemoglobin switch, assessed in cells in culture.
Estimating trait heritability of contraction-biased somatic instability in R6/2 Huntington disease mice inheriting large CAG•CTG repeat expansions: This investigation, carried out in the research laboratory of Professor Darren Monckton assessed heritability an unusual contraction-biased repeat instability by genotyping a subset of transgenic mice using small pool PCR (SP·PCR).
The role of Rac GTPases and their activators in pancreatic cancer and melanoma: In this investigation, carried out in the research laboratory of Dr Laura Machesky at the Cancer Research UK Glasgow Centre, a comprehensive bioinformatics assessment followed by experimental validation was performed across Dock proteins to assess the importance of Rac/Cdc42 activator Dock6 in melanoma metastasis.
An audit to determine the mutation detection rate of the current testing protocol in patients referred for hereditary haemochromatosis testing: The aim of this audit, carried out with NHS clinical scientists in the West of Scotland Genetics Service was to obtain the number of referrals and referral reasons for HFE testing, to establish pick up rates and mutation frequencies for comparison to published data. The investigation demonstrated that reporting and referral practices may need to be evaluated, with primary care physicians being made more aware of the biochemical indicators of the disease, the strategies for diagnosis, turn-around time for results and management as well as counselling and cascade screening.
Identification of genetic modifiers of Collagen Type IV associated diseases using the model organism Caenorrhabiditis elegans: This project in the research laboratory of Dr Tom van Agtmael utilised transgenic C. elegans to demonstrate the existence of modifier loci that affect the phenotypic expression of a collagen gene mutation.
The genetic investigation of couples with recurrent miscarriage: This audit, carried out with NHS clinical scientists in the was a retrospective study of the West of Scotland Genetics Service findings to determine the abnormality detection rate of QF-PCR, and the clinical utility of SNP-array as a way of assessing laboratory procedures for recurrent miscarriage.
Single nucleotide polymorphisms in genes related to type 2 diabetes and hypertension: The aim of this study, which was self-proposed by the student, was to determine whether diabetes / hypertension genotype-phenotype correlations could be made by genotyping SNPs in the genes angiotensinogen (AGT), adiponectin (ADIPOQ), vascular endothelial growth factor A (VEGFA) and potassium voltage-gated channel subfamily Q member 1 (KCNQ1) for Guatemalan patients with hypertension and also diabetes patient DNA panels, and to correlate patient haplotypes with the disease conditions.
What can we learn from data analysis of stratified medicine cohorts in lung and other cancers?: This project, carried out in collaboration with Dr David Morrison & Dr Karin Oien analysed clinicopathologic information, tumour specimens processing data and molecular testing success and failure rates from 1226 patients of the Glasgow Stratified Medicine Programme dataset to evaluate optimal protocols for future use.
Development of transcription factor knockout models using CRISPR-Cas9 technology: In this project, in the laboratory of Dr Adam West, gene editing technology was used to create cell lines with knockout mutations in various transcription factor genes in order to be able to investigate how these transcription factors contribute to erythroid enhancer function
‌