Outlander author gives fascinating insight into her creative writing process
Published: 19 July 2023
The author revealed in her talk at the University of Glasgow's Outlander conference that her career as a published author nearly finished before it began.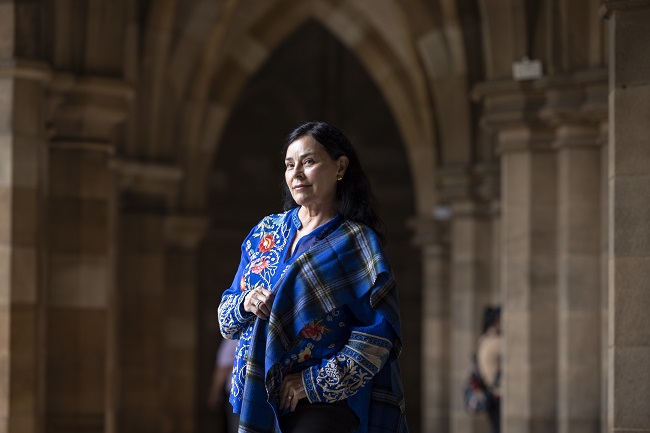 Outlander author Diana Gabaldon has opened the 1st international Outlander conference at the University of Glasgow and gave a fascinating insight into her creative writing process.
Expert scholars and Outlander fans are joining Dr Gabaldon to tackle themes such as Jacobite history, screen production, Scottish tourism, Gaelic and Scots, costume design, fandom, Claire Fraser's medicine, and witchcraft.
The Outlander literary series is made up of nine thrilling instalments and tells the tale of a post-Second World War nurse who accidentally time travels to Jacobite Scotland. Outlander has now become one of the bestselling book series of all time and spawned the hugely popular TV series, currently in its seventh season.
Dr Gabaldon's talk was entitled, '"Why Scotland? Why Not Mexico?" Genes, Borders, Culture and Fiction: Why They Matter and When They Don't'.
The author, who was awarded an honorary doctorate by the University of Glasgow last year, revealed that her career as a published author nearly finished before it began.
She said her first book almost got cancelled due to the difficulty in how to categorise it, adding: "It took the publishers 18 months to figure out what to do with it. I learned later that they came very close to cancelling the contract and giving me back the book because they couldn't decide how to sell it.
"This was before Amazon where a book can be classified as several things at once and people can pick off the web what they want, and they still get the same book. Whereas back in the day it was only bookstores, you had to put a book on a certain shelf, the shelf had to have a label and the book also had to have that label.
"My agent finally called me up and said they had decided to publish it but sell it as a romance. I said, 'What?' that isn't what I wrote. He pointed out that a best seller in fantasy fiction was 50,000 copies in paperback while in romance it is 500,000 copies. So we sold it as romance.
"My first editor said to me early on these have to be word of mouths books because they are too weird to describe, which is totally true and that is also true about the word of mouth. So that being the case it made total sense to expose the book to 500,000 people in the romance category who will go out and tell their friends and the word will spread. So we did that and that is exactly what happened."
She also explained why she picked Scotland as the location of Outlander.
Dr Gabaldon said: "Why Scotland? What I learned from my research and contact with Scots is that Scots are and historically were very literate. They wrote down things. They also have a very strong oral culture; they told their stories. They also have a lot of history available. Then there is the nature of Scottish history, it has a lot of heroes and heroines as well as conflict which is what you need for a good story."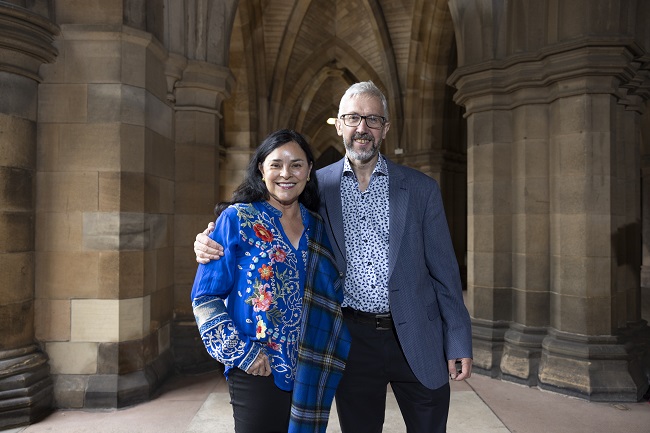 The International Outlander Conference is taking place from 18-22 July at the University of Glasgow and promises to be a landmark event.
Professor Willy Maley, Professor of Renaissance Studies (English Literature), at the University of Glasgow's School of Critical Studies, said: "We are delighted to welcome Diana Gabaldon back to the University of Glasgow. Diana Gabaldon's Outlander series has had a transformative impact on Scottish culture, generating global interest in the history, languages and landscapes of Scotland.
"Vivid and visceral, Outlander is an otherworldly but never unworldly phenomenon that takes a time-travelling nurse-turned-doctor and propels her from 1946 to 1743, two worlds of war that collide in an elaborate and painstaking reconstruction that make the series much more than historical fiction and more an innovative and pioneering rethinking of how we excavate and examine the narratives of the past. Shot entirely in Scotland Outlander has also been a brilliant boost for the Scottish film industry."
---
First published: 19 July 2023