Outlander Author Diana Gabaldon opens the 1st international Outlander conference in Glasgow
Published: 18 July 2023
Outlander author Diana Gabaldon today opens the 1st international Outlander conference at the University of Glasgow.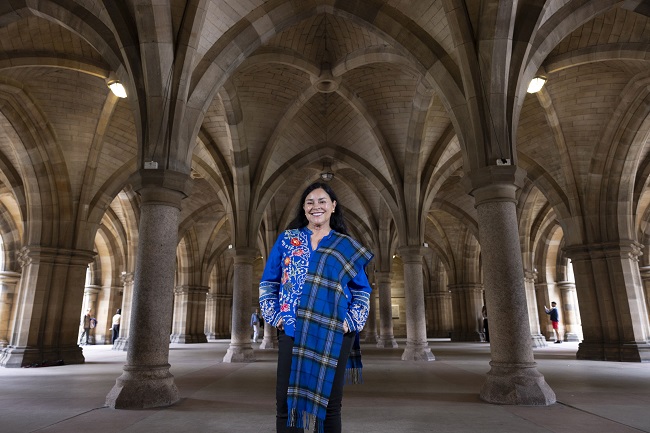 Outlander author Diana Gabaldon has opened the 1st international Outlander conference at the University of Glasgow.
Expert scholars and Outlander fans are joining Dr Gabaldon to tackle conference themes such as Jacobite history, screen production, Scottish tourism, Gaelic and Scots, costume design, fandom, Claire Fraser's medicine, and witchcraft.
Dr Gabaldon's talk was entitled, '"Why Scotland? Why Not Mexico?" Genes, Borders, Culture and Fiction: Why They Matter and When They Don't'.
The author, who was awarded an honorary doctorate by the University of Glasgow last year, said ahead of her talk: "My lecture will be partly personal, as in why did I write a book set in Scotland. I will also be talking about how do I go about my business of writing, and what, if any, limits do I observe in what I write of how I write it."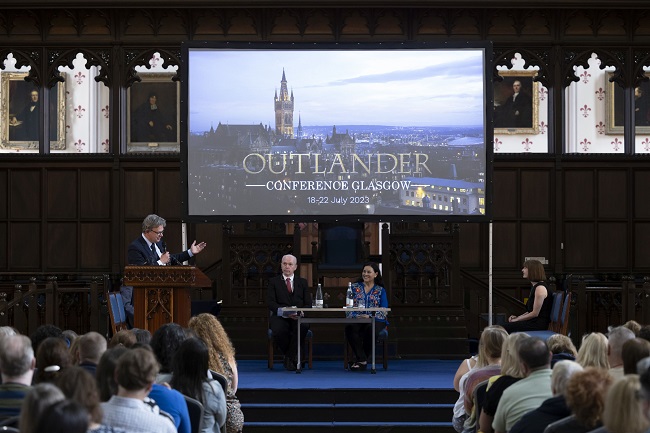 The Outlander literary series is made up of nine thrilling instalments, and tells the tale of a post-Second World War nurse who accidentally time travels to Jacobite Scotland. Outlander became one of the bestselling book series of all time and spawned the hugely popular TV series, currently in its seventh season.
Professor Willy Maley, who came up with the idea of an Outlander Conference, said: "Diana Gabaldon's Outlander series has had a transformative impact on Scottish culture, generating global interest in the history, languages and landscapes of Scotland. It has not only helped put the country on the map, but has also mapped out the international contribution of Scotland to American Independence and more problematically to the Atlantic slave trade."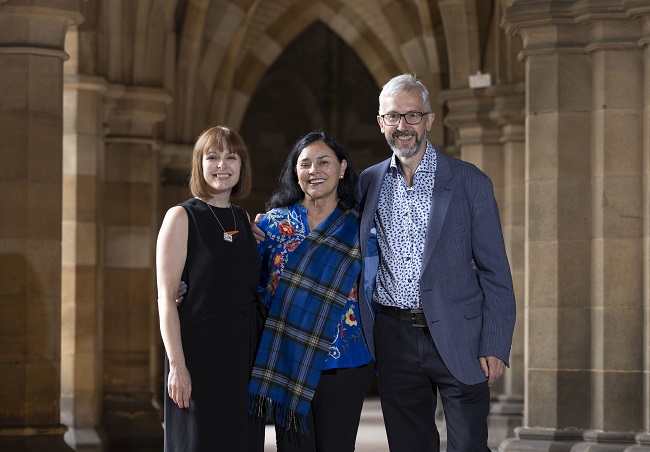 Professor Maley added: "Richly researched, the books open up question about eighteenth-century Scotland and pivotal events like Culloden to a world readership, at a time when new scholarship suggests that some of this history has still to be written or is in need of revision. A notable feature of Outlander is its frank treatment of female sexuality and sexual relations on the whole, including sexual violence. Vivid and visceral, Outlander is an otherworldly but never unworldly phenomenon that takes a time-travelling nurse-turned-doctor and propels her from 1946 to 1743, two worlds of war that collide in an elaborate and painstaking reconstruction that make the series much more than historical fiction and more an innovative and pioneering rethinking of how we excavate and examine the narratives of the past. Shot entirely in Scotland Outlander has also been a brilliant boost for the Scottish film industry."
---
The International Outlander Conference will take place from 18-22 July at the University of Glasgow and promises to be a landmark event.
Learn more about the Outlander Conference via www.outlanderconferenceglasgow.com/
First published: 18 July 2023