University of Glasgow Legally Wed Board Game prototype launch
Issued: Tue, 10 Sep 2019 10:00:00 BST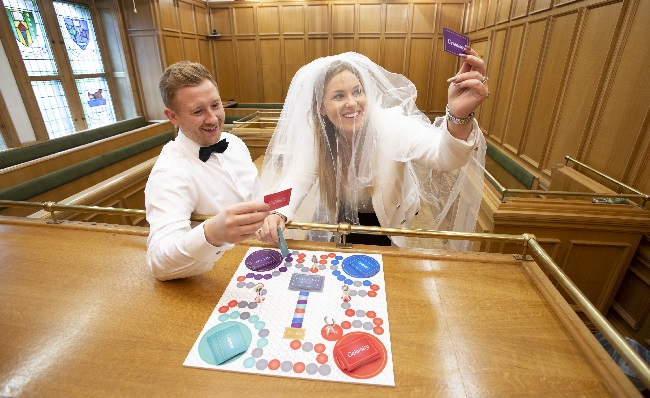 University of Glasgow academics are developing a board game to help the public negotiate the complex legal world of marriage.
The new board game prototype is being unveiled today and is called Legally Wed. It has been inspired by the work of academics at the University's School of Law - Professor Jane Mair, Dr Frankie McCarthy and Felicity Belton
The academics have drawn on their research in Family Law and the personal wedding stories of family and friends to create the game's tasks and challenges, which mirror real-life wedding mishaps on the way to the big day!
Players will have to race to plan their wedding and be first up the aisle to win the game. Along the way, in addition to choosing venues, food, outfits and the other trappings of a modern-day wedding, players must complete all the steps required for a legal marriage. If not, no matter how good they look in their Insta story, they will end the day without a spouse.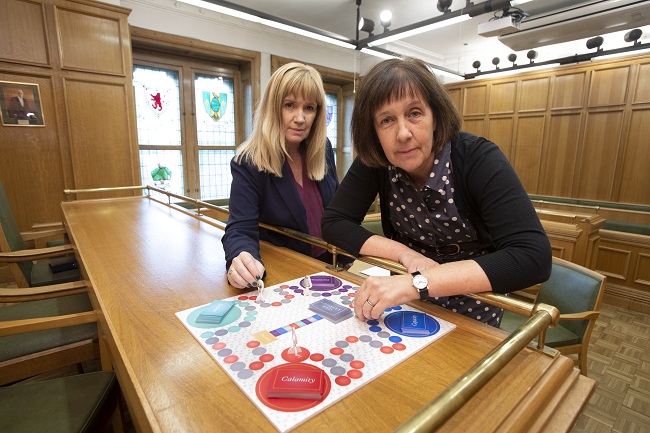 Professor Jane Mair, who is Head of the School of Law, said: "Around 30,000 wedding ceremonies took place in Scotland last year, and with the advent of same sex marriage and legal recognition given to humanist wedding ceremonies, the choice to get married is open to a greater number of couples than ever before.
"However, the legal consequences of marriage – and the legal differences between marriage and long-term cohabitation – are poorly understood. Our research has explored how the law regulating marriage, divorce and cohabitation is applied in practice by the courts, solicitors and other legal practitioners in Scotland.
"To date, our impact work connected to this research has been focused on policymakers and legal practitioners, but we are keen to expand its scope to include the general public. Through partnership with industrial collaborators, and thanks to funding from the
University of Glasgow we can now explore the potential of games as a medium for changing public understanding of the law.
The team received funding from the Economic and Social Research Council Impact Acceleration Account(IAA) Business Booster Fund to develop their board game prototype.
Dr Frankie McCarthy, a Senior Lecturer in Law at the University, said: "We weren't trying to make a game initially. But we have always been interested in different ways of engaging our students in the area of Family Law we all work in.
"For example, our first year Family Law course is assessed by a case study where students have to give legal advice to a family who encounter increasingly ridiculous (but fairly real-life) scenarios throughout the semester. We like it because it requires the students to provide very detailed and accurate legal advice. But it is a bit like a soap opera or a very dysfunctional Mills & Boon serialisation.
"In 2016 we took part in a public engagement festival to engage with our law research and the idea of a board game evolved as a simple and eye-catching idea which would be fun and interactive."
Felicity Belton, Research & Teaching Associate, Law Reform Research Group at the School of Law said: "Games and puzzles have been around for centuries: they are fun, they are educational, they are inter-generational, and they are a focus for creativity, communication and cultural development.
"While recent decades have been dominated by computer games, 'old-fashioned' board games are currently experiencing a revival.
"We think this new board game is a great way to help raise public awareness of some of the complexity of the law around marriage."
The team will continue to develop the prototype and hope it will be available for sale in 2020 for the public to try for themselves.


The Business Booster project
In late summer 2018, the College of Social Science launched its Economic and Social Research Council Impact Acceleration Accounts(IAA) Business Booster Fund. The project team applied for seed funding to develop their research idea using a board game. They were successful with their application which allowed them to develop the prototype game with a graphic design company.
Professor Jane Mair
Professor Jane Mair has done a lot of research into the law relating to marriage and weddings. You can see some of it here.
A particular interest is the wide range of legally valid forms of wedding ceremonies in Scotland. Humanist weddings have been possible since 2005 and since 2014 'religious' marriage in Scotland has been redefined and is now 'religious or belief' marriage.
Jane has worked closely with Humanist Society Scotland (HSS) and, together with Felicity they have presented to the annual conference of HSS Celebrants.
The wide choice of wedding ceremonies is one of the notable features of Scots law – in England, for example, it is still not possible to have a legally valid Humanist marriage although the Westminster government has just announced proposed major reform of marriage law in England & Wales - https://www.gov.uk/government/news/first-ever-marriage-review-to-free-up-dream-wedding-venues
The Game
From Don't Tell the Bride to Married at First Sight to Say Yes to the Dress, it seems like planning a wedding has never been more entertaining than it is today. And yet, as a group of family law academics, we could see that the legal rules about how to get married are still as poorly understood as ever. Was there some way, we wondered, to combine the two, so that marriage law could be part of the glamour and drama of the big day? Our answer was Legally Wed.
The Legally Wed team worked with Warriors Studio in Glasgow to bring a fun, contemporary graphic design to our research-based game concept. The result is a game for all ages that will be just as much fun at a children's play date as at an adult Stag Do or Hen Party – and you might even learn something as a result.
---
For more information contact Aine Allardyce in the University of Glasgow Communications and Public Affairs Office on 0141 330 7126 or email aine.allardyce@glasgow.ac.uk