Tributes have been paid by UofG colleagues to renowned academic and historian Professor Ted Cowan.
Published: 11 January 2022
Professor Cowan passed away on Sunday 2 January following a short illness.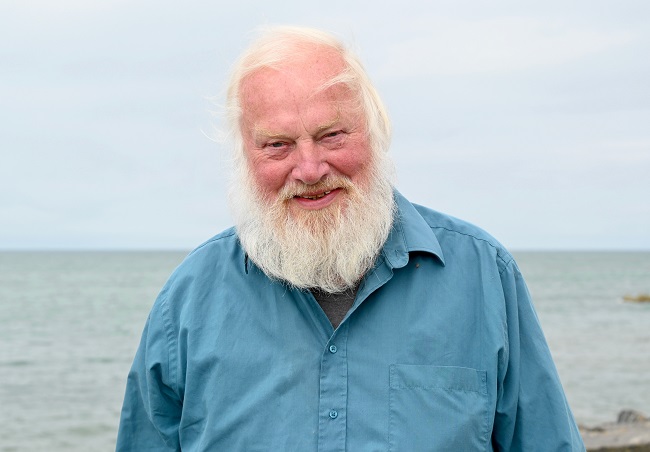 Tributes have been paid to renowned academic and historian Professor Ted Cowan.
Professor Cowan passed away on Sunday 2 January following a short illness.
The Emeritus Professor, formerly Professor of Scottish History and Literature at the University of Glasgow and Director of the University's Crichton Campus in Dumfries, previously taught at the Universities of Edinburgh and Guelph, Ontario.
Professor Cowan, who was 77, was born in Edinburgh but was brought up, lived and eventually retired to Dumfries and Galloway.
A pioneer in the study of 'people's history', he had a passionate commitment to communicating Scotland's past to its people today, and to the world.
He published, co-wrote or edited 18 books and nearly a 100 articles or book chapters, including crucial contributions to our understanding of the Viking impact on Scotland, the Wars of Independence to Scottish popular culture and folk belief. Two books are due to be published this year, Northern Lights: The Arctic Scots, and the edited proceedings of a conference on Gaelic Galloway.
Professor Sir Anton Muscatelli, Principal and Vice Chancellor of the University of Glagsow, said: "I would like to extend our deepest condolences to the family, friends and colleagues of Professor Ted Cowan.
"I have very vivid memories of Ted during my time as Vice Principal while he was Director of the Crichton Campus, as it was known at the time. What I remember most is his determination, belief and passion for a campus to be in Dumfries: he truly was a champion for the local community and for retaining the University's presence in the area. Indeed, as Director of the Crichton Campus from 2004-2009, Ted brought about significant changes and developed research and educational links in Dumfries and the wider region which still exist today.
"Ted's other great passions for Scottish history and literature saw him recognised and highly regarded across the globe. His exceptional reputation allowed him to teach and conduct his work not only at the University of Glasgow, but in Edinburgh, Canada, the USA, New Zealand and Australia. It is therefore not an understatement to say that Ted was considered as one of our greatest scholars and most respected historians.
"Since hearing of his passing, many colleagues from across the University have been in touch with their own tributes for Ted, demonstrating how much of an impact he has made to our community in Dumfries and Glasgow, and to the academic community across the globe."
Professor Dauvit Broun, Professor of Scottish History at the University of Glasgow, who was a friend and colleague of Professor Cowan, said: "Professor Ted Cowan was a towering presence in the field of Scottish studies for nearly half a century. His command of history and literature spanned a millennium, from Vikings to WW1 poets, and ranged across the globe, following the fortunes of Scots from the Arctic to the Antipodes.
"His particular passion was what he referred to as 'the people's history', and latterly the history of his native Dumfriesshire and the South West generally, to which he was committed not only as a scholar but as head of the University's Crichton campus, successfully campaigning against plans to close it.
"He was in regular demand as a speaker in local and academic settings, and his lectures eagerly attended by the public and scholars alike. There never was, and never will be, a scholar with such a range of research or gift for communication. It was a privilege and inspiration to work with him, and a source of great pride that he made the University of Glasgow his academic home while he was at the peak of his powers."
Professor Cowan is survived by his second wife, Dr Lizanne Henderson, his sisters Eileen, Margaret, Fiona, his children by his first wife Alison (d. 1994) Karen, Morna, David, and eight grandchildren.
---
First published: 11 January 2022