Interactive map helps protect one of the UK's most threatened mammals
Published: 15 February 2022
Researchers from the University of Glasgow, together with partners from Glasgow City Council, NatureScot and Seven Lochs Wetland Park, have developed an interactive web tool to map suitable habitats for a nationally significant water vole species
Researchers from the University of Glasgow, together with partners from Glasgow City Council, NatureScot and Seven Lochs Wetland Park, have developed an interactive web tool to map suitable habitats for a nationally significant water vole species.
Natural habitats in urban areas provide benefits for humans, wildlife and biodiversity. However, in order to maintain and increase biodiversity, we require new techniques to help identify suitable wildlife habitats so that these spaces can be protected during urban planning and city development.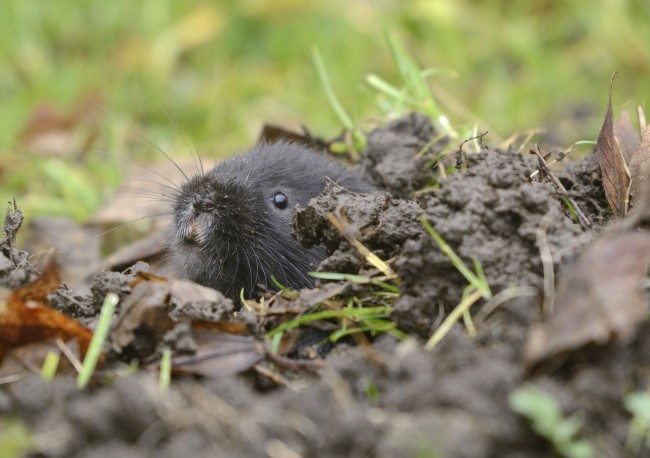 Scotland is home to one of the UK's most threatened mammals – the European Water Vole, Arvicola amphibius. These water voles occupy dry grassland habitats in parks and green spaces in and around the City of Glasgow. However, many of the areas occupied by water voles have been identified for urban regeneration and, therefore, detailed knowledge of habitat suitability is required in order to protect this species.
Now, researchers at the University of Glasgow have developed a model which can map green corridors between areas of suitable habitat, and also predict how city development may influence the availability of habitat for water voles. It is hoped this new work, which is published in the Journal of Applied Ecology, will help conservation of this unique and much-loved species.
Luca Nelli, lead author of the study from the University of Glasgow, said: "With our work we wanted to develop a user-friendly tool for conservation, that can be used by planners to inform ecological decision making, increase biodiversity and reduce human-wildlife conflict in urban environments. This model will be used to inform management of water voles, balance the legal protection of this species, maintain green amenity space for local people, and to inform the planning of building and infrastructure for the socio-economic development of affected areas. We also hope this will provide a framework for applying similar practices to the management of other species and habitats in urban environments."
The interactive web tool is now being used for the management and conservation of water voles in North East Glasgow and the Seven Lochs Wetland Park. The research also outlines a framework for the future development of nature conservation tools. These can be used by planners to inform ecological decision making, to increase biodiversity and to reduce human-wildlife conflict in urban environments.
Catherine Scott, co-author of the study from Glasgow City Council, said: "The unique population of urban grassland water voles in Glasgow is a huge biodiversity success. However, it does also present new unique challenges and the Council always welcomes partnership working with a range of organisations for new and emerging issues.
"This new research will feed into the existing planning system and is invaluable in providing additional guidance to help balance both the needs of biodiversity and a thriving city. After all, well connected greenspace which provides the habitat connectivity required for this nationally significant species, can also provide the active travel routes to work, school and play for residents. And by identifying the core areas of biodiversity interest, other areas can be unlocked for regeneration projects."
Nida Al-Fulaij, Conservation Research Manager at Peoples' Trust for Endangered Species, said: "Increasing urbanisation is a key threat for many of our most-loved mammals. Now water voles join that list of species. Thankfully, this important work, by the team in Glasgow, will ensure that the city's water voles are taken into consideration as urban regeneration takes place."
Lyndsey Kinnes, NatureScot Operations Manager in Strathclyde & Ayrshire, said: "We are pleased to see the new tools being used to help create a habitat network for Glasgow's urban water vole population as part of wider urban regeneration projects for the area. Water vole habitat locally, and in Great Britain as a whole, is increasingly under threat from development, but Glasgow is still one of the few areas where they appear to be doing well. The work by the University of Glasgow is an important step in ensuring that this significant and unique population continues to thrive in the city alongside people."
The study, 'Predicting habitat suitability and connectivity for management and conservation of urban wildlife: a real-time web application for grassland water voles' is published in the Journal of Applied Ecology. The work is funded by the Peoples' Trust for Endangered Species, Glasgow City Council, Glasgow Natural History Society and NatureScot.
---
Enquiries: ali.howard@glasgow.ac.uk or elizabeth.mcmeekin@glasgow.ac.uk / 0141 330 6557 or 0141 330 4831
First published: 15 February 2022
Related Links
Professor Dominic McCafferty, profile