New Scottish education centres to support young people officially opens in Glasgow and Edinburgh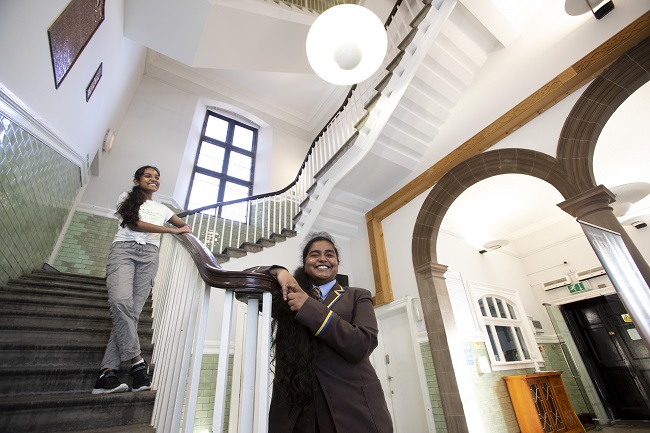 New learning centres officially open in Glasgow and Edinburgh this week and are set to empower thousands of young people to achieve their academic and career ambitions.
The centres in Govan and Craigmillar are a ground-breaking collaboration between the University of Glasgow, the University of Edinburgh and education charity IntoUniversity to provide additional educational support to those aged 7-18.
The collaboration will connect young people, who may never have dreamed of going to university, with two of the world's leading Higher Education Institutions, providing exceptional opportunities to support their learning and nurture their ambitions, whatever those might be.
IntoUniversity Govan, which officially launches today (Tuesday 5 October 2021), is the first of three local education centres to open in Scotland and is based at The Pearce Institute in Govan, Glasgow. A further centre – IntoUniversity Craigmillar – based in The White House, Craigmillar, Edinburgh will also be officially launching this week (Thursday) and a third centre in Maryhill, Glasgow will be launched in Spring 2022. The new centres in Craigmillar, Govan and Maryhill are the charity's first in Scotland.
Both universities will be involved in all three centres in the years to come, motivated by a shared concern for children growing up experiencing poverty and a belief in the power of education to transform young people's lives. 71% of school leavers who attended existing IntoUniversity centres in 2020 went on to progress to university, compared with 26% of students from similar backgrounds.
Working closely with local schools and other agencies including Glasgow and Edinburgh city councils, the centres offer ground-breaking support to young people, including after-school academic support, mentoring with university students and local professionals, in-school aspiration-raising workshops and enrichment and work experience opportunities.
The Govan and Craigmillar centres opened to young people in April and once established, each centre will support over 1000 students per year.
#ICYMI we recently launched @IntoUniversity Govan & Craigmillar learning centres in collaboration with@EdinburghUni

Watch this film with interviews from students & staff involved in #Glasgow & #Edinburgh

More info - https://t.co/NyXOt8YhJ6 pic.twitter.com/apQqRosT9T

— University of Glasgow (@UofGlasgow) October 19, 2021
The new Scottish centres are inclusive of all academic abilities and help young people to achieve a university/college place or another positive destination.
Attending the event will be around 15 students aged 7-18, along with their parents and guardians, who are set to benefit from the centre for the next academic year and beyond, with some of them delivering speeches.
Leo, age 9 and in P5 at Niddrie Mill Primary School in Edinburgh said: "I have been coming here for three months now, since the school holidays, and it has given me a lot of education like Computer Science and Maths as well as fun activities. It has helped me think about what I want to do when I leave school and the job I want to do, to be a police officer like my grandpa, and I would need to go to university for that."
Yasnitha, age 13, who is in S3 at Notre Dame in Glasgow, said: "I really like coming to the centre – it is very relaxing and calming and I get to do my homework and lots of other educational activities. Everyone that works here are so nice and they have helped me with passing my tests – I used to get Cs and now it is all As, which I am very proud about.
"I want to go to university to become a primary school teacher – we get to talk about university and learn what qualifications I need."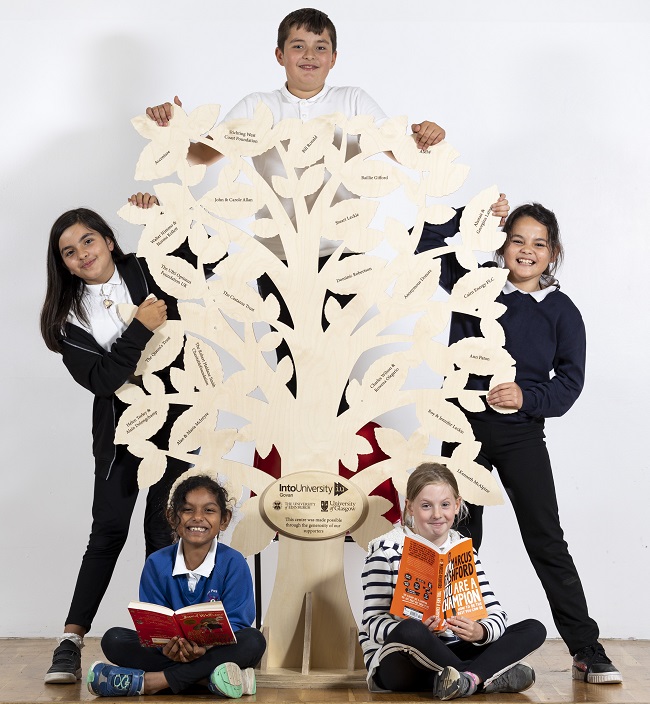 At the official opening of the Govan and Craigmillar centres, primary school students will be taking part in a variety of activities replicating the type of activities they will be engaging with in the year ahead during after-school academic support sessions.
Secondary school students will be coming up with questions to survey attending guests,and revealing the results during the event.
Professor Sir Anton Muscatelli, Principal and Vice-Chancellor University of Glasgow, said: "As an anchor institution in our city, the University of Glasgow has a civic duty to support and empower young people across our communities to reach their full potential.
"We are delighted to be working with the University of Edinburgh and IntoUniversity on this new partnership, which contributes to Glasgow's ongoing commitment to Widening Access to students from all backgrounds. I am also deeply grateful to all our supporters and alumni who have given so generously to bring the vision for the centres to fruition.
"We believe that these new centres will help prepare children from an early age to raise their aspirations and give them the confidence to see that going to university is a real, viable option for them. This initiative forms part of the University of Glasgow's wider commitment to civic engagement in the city and beyond, and is an extension of our work with the community of Govan to support inclusive growth and regeneration efforts through the Glasgow Riverside Innovation District."
Professor Peter Mathieson, Principal and Vice-Chancellor of the University of Edinburgh, said: "The IntoUniversity centres are a critical element to the approach we are taking to widening participation looking at every part of the student journey.
"The centres are already demonstrating how they can help to nurture talent, aspiration and potential in communities, expanding educational opportunities for young people and their families and supporting them to access higher education wherever it is right for them."
Dr. Rachel Carr, Chief Executive and Co-Founder of IntoUniversity, said "We are delighted to have opened three new learning centres in Glasgow and Edinburgh in collaboration with the Universities of Glasgow and Edinburgh. It is wonderful to be able to celebrate the success of students so far, as well as looking forward to what they will achieve in the future."
---
For more information contact Áine Allardyce, Communications Manager, External Relations, at the University of Glasgow on email on aine.allardyce@glasgow.ac.uk or Andrew Moffat, at the University of Edinburgh on Andrew.Moffat@ed.ac.uk
About IntoUniversity
IntoUniversity is an Education Charity Registered Charity Number SC049776 (Scotland) and 1118525 (England and Wales) which runs local learning centres that are inclusive of all academic abilities and help young people to achieve a university/college place or another positive destination. www.intouniversity.org
IntoUniversity currently runs 35 centres in 16 towns and cities in England and Scotland. The new centres in Craigmillar, Govan and Maryhill are the charity's first in Scotland.
IntoUniversity centres work closely with local schools, colleges, universities and businesses to support young people to achieve their chosen aspirations. Young people experiencing disadvantage are likely to have lost several months' learning during the pandemic and will be facing a more challenging job market and tougher economy, potentially knocking back their plans for tertiary education and entering the world of work. The new IntoUniversity centres will add to the long-term effort of schools and other agencies to support young people's learning recovery whilst in education.
IntoUniversity has a proven track record of improving attainment into further education for students from disadvantaged backgrounds in England, and has supported more than 100,000 students across over 32 centres and extension projects nationwide since 2002. 71% of school leavers who attended IntoUniversity centres in 2020 went on to progress to university, compared with 26% of students from similar backgrounds nationally.
First published: 5 October 2021