Donation will help continue research into Scotland's national bard at the University of Glasgow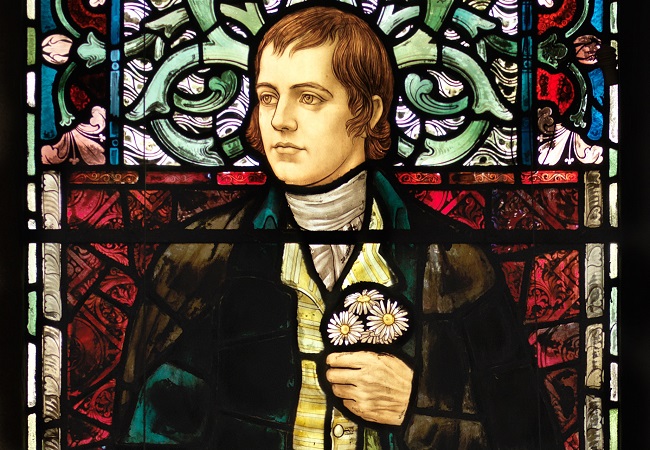 A philanthropic American couple have gifted a quarter of a million dollars to the home of the largest concentration of Robert Burns experts in the world, it was announced today (Thursday 16 January 2020).
The $225,000 gift from Frank and Susan Shaw of Atlanta is to the University of Glasgow's Centre for Robert Burns Studies.
The Shaws are enthusiastic supporters of the scholarship of Scotland's national bard and the gift is the latest in a series of donations to the University.
Mr and Mrs Shaw said: "We are lucky to have built a great friendship with the team at the Centre for Robert Burns Studies.
"It has been wonderful to be part of supporting the great scholarship and educational excellence of the work being undertaken on Burns in Glasgow.
"Our latest gift seeks to support the continued research excellence in this field and help ensure new scholars in Burns Studies are also supported in their work."
Mr Shaw, who is a past president of the St Andrew's Society of Atlanta, can trace his ancestry to the Scottish island of Jura and runs a website on Scotland's national bard called Robert Burns Lives!
Mrs Shaw, a native Atlantan, retired in 2002 from The Coca-Cola Company as Corporate Secretary after 35 years.
Professor Gerard Carruthers, Co-Director of the Centre for Robert Burns Studies based at the University's College of Arts, said: "The huge generosity of the Shaw family enables both support for younger scholars and the advancement of cutting-edge research in Burns.
"We are very grateful for both the moral and material support of Frank and Susan - they are our passionate friends and collaborators who make a big difference to us and our students."
Professor Roibeard O Maolalaigh, Vice-Principal and Head of the College of Arts at the University of Glasgow, said: "We are extremely grateful to Frank and Susan Shaw for their continued support of the Centre for Robert Burns Studies.
"It recognises the importance of the outstanding scholarship on Scotland's national bard being provided by the University of Glasgow."
The Centre for Robert Burns Studies was established in July 2007. Its mission is the development of research, scholarship and teaching in the area of Robert Burns, his cultural period and related literature.
Born in 1759, Robert Burns' poems and songs have been translated into every major language, and his influence has extended far beyond Scotland. A recent report by Professor Murray Pittock of the Centre for Robert Burns Studies called Robert Burns and the Scottish economy said the bard's economic and cultural importance to the Scottish economy is now estimated to be £203 million annually and the bard's brand is worth £139.5 million a year.
---
First published: 16 January 2020