UofG academic awarded prestigious prize
Published: 14 October 2019
Professor Marc Alexander wins Philip Leverhulme Prize for work on the Historical Thesaurus of English
A University of Glasgow academic has been awarded a prestigious £100,000 prize to allow him to carry out new research on the evolution of the English language.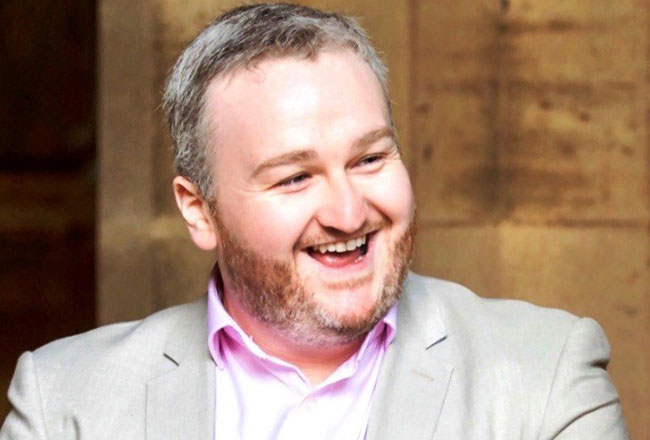 Professor Marc Alexander will use his Philip Leverhulme Prize award to continue his world-class research on the Historical Thesaurus of English, which has already revolutionised our understanding of the last thousand years of the language's meanings.
Professor Alexander, the University's Professor of English Linguistics and Director of the Historical Thesaurus, said: "I am very honoured to be awarded this prize. I have been fortunate to spend my career surrounded by a thousand years' worth of words, and it is wonderful to be able to take a deeper dive into them.
"The big question I want to explore is where the language has unusual patterns and anomalies – why do we have the most words for 'bad weather' in 1850 and fewer nowadays, for example, or why do our words for 'kissing' triple in the 1540s? We want to explore where and why this happens, and the prize lets me work with new and exciting researchers and use new cutting-edge software to analyse the richness of the Historical Thesaurus.
"In another strand of the work, we will also be exploring Parliamentary language in Hansard across the last two hundred years and seeing where the language used by politicians reflects – or hides – the country's concerns during major crises."
The Philip Leverhulme Prize honours researchers whose future career is seen as "exceptionally promising" and whose work has already attracted international recognition.
Professor Sir Anton Muscatelli, Principal of the University of Glasgow, said: "The award of a Philip Leverhulme Prize to Professor Marc Alexander is wonderful news and richly deserved recognition of his outstanding scholarship.
"Professor Alexander has done incredible work on the University of Glasgow's Historical Thesaurus of English. I look forward to seeing the findings he will uncover in this novel approach to his research."
The Historical Thesaurus has 793,733 words arranged by meaning, spanning more than 1,000 years of the English language.
Professor Alexander and his team are currently working on the second edition which is seeing 35% of the 800,000 entries in the Thesaurus being re-dated with new evidence, over a third of the meaning categories will be revised, and 20,000 new words added.
---
First published: 14 October 2019