Model steam engine which inspired James Watt receives Engineering Heritage Award
The Newcomen model steam engine in The Hunterian Museum at the University of Glasgow has received an Engineering Heritage Award from the Institution of Mechanical Engineers to recognise its importance in inspiring James Watt's pioneering achievements.
When the young James Watt, who was working as an instrument maker at the University of Glasgow, was asked to repair the Newcomen model engine during the winter of 1763-1764, he realised it could be improved significantly which led to his invention of the separate steam condenser.
The condenser transformed steam engine design, making the engines more efficient and cheaper to run which helped spark the Industrial Revolution.
Demand for Watt's steam engine was high, and it was quickly adopted in many industries, including cotton mills, paper mills as well as by Cornish mine owners.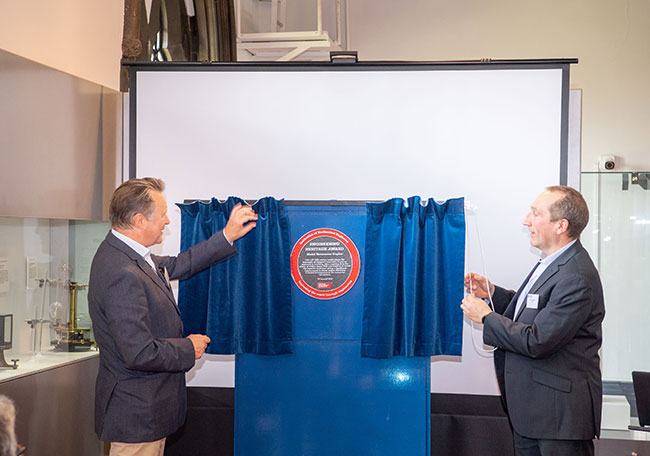 Caption: Steph Scholten, Director of The Hunterian Museum, and Alan Stewart, Chair of the Institution of Mechanical Engineers' Scottish Region
The award, which was presented at a special event at The Hunterian at the Kelvin Hall in Glasgow on Monday, 19 August 2019, comes on the 200th anniversary of Watt's death in August 1819. It also coincides with the 250th anniversary of his first patent for 'a new method of lessening the consumption of steam and fuel in fire-engines' in January 1769.
Dr Colin Brown, Chief Executive of the Institution of Mechanical Engineers, said: "We are delighted to be able to recognise the Newcomen model steam engine with this award. James Watt's brilliance was of huge benefit to society and contributed to the process of industrial innovation which we see continuing today."
Accepting the award, Dr Nicky Reeves, Curator of Scientific and Medical History Collections at The Hunterian, said: "Instruments and models used — and repaired — at the University of Glasgow in the 18th century are a powerful way for museum audiences to engage with the history of education, the history of science and technology, and the intertwined histories of Industry and Empire. We are delighted that IMechE continue to acknowledge and commemorate heritage items held in museum collections."
Professor David Cumming, Chair of Electronic Systems and Head of the James Watt School of Engineering, said: "James Watt's pioneering achievements in engineering are respected world-wide and we are proud of his connections with the University of Glasgow that led him to his great discoveries."
This is the 127th Engineering Heritage Award to be presented by the Institution of Mechanical Engineers. The awards, established in 1984, aim to promote artefacts, sites or landmarks of significant engineering importance – past and present.
Previous winners of Engineering Heritage Awards include Alan Turing's Bombe at Bletchley Park, the E-Type Jaguar and Concorde.
---
First published: 20 August 2019