UofG hosts THE's first Teaching Excellence Summit
Published: 14 July 2018
The University has hosted the inaugural Teaching Excellence Summit in THE's world summit series at which THE launched a pilot set of rankings – The Europe Teaching Rankings 2018.
The University has hosted the inaugural Teaching Excellence Summit in THE's world summit series at which THE launched a pilot set of rankings – The Europe Teaching Rankings 2018.
In this new ranking, half of universities' overall scores are based on a student engagement survey of more than 30,000 university students. This includes questions on whether teaching supports critical thinking, whether classes challenge students and whether students have the opportunity to interact with staff. The ranking also measures student outcomes, the diversity of institutions' environments, and the resources that universities have in order to teach effectively. More than 240 universities across western and southern Europe have been ranked; the University of Glasgow was ranked 31 in Europe, 22 in the UK and 3rd in Scotland for Teaching Excellence.
Opening the summit, Principal and Vice-Chancellor Professor Sir Anton Muscatelli said: "Arguably over the last few years, in international university conferences such as this, teaching has been overshadowed through an intense focus on research. Certainly in the UK, when it comes to the measurement of reputation a lot of the focus has been about the pursuit of research excellence – with Research Assessment Exercises and Research Excellence Frameworks commanding attention and demanding a big effort in terms of preparation and strategising."
He added: "We are living through the 4th Industrial revolution - the pace and nature of technological change is breathtaking, its potential immense. It's impacting on the way, and range of ways, we teach and assess. It offers unprecedented flexibility and game-changing approaches to the ways in which we can meet the learning needs of our increasingly diverse and international student communities."
Phil Baty, Editorial director, global rankings, THE, with a focus on developments in HE south of the border, said: "University teaching has been thrust to the very heart of the political agenda, with an evolving and highly controversial new teaching excellence framework for the evaluation of teaching, the arrival of a new all-powerful regulator – the Office for Students – and a fundamental review of teaching funding under way."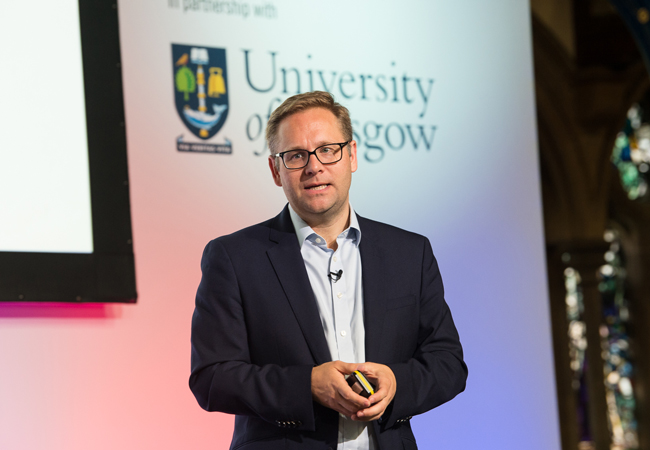 He added that some universities had allowed the research mission to outweigh the teaching mission.
"Research is where the cash is and where the cache is," he said.
Professor Richard Arum, Dean of the School of Education, University of California, said that the rise of digital learning meant a move from the "teacher as lecturer to teacher as mentor and coach".
He predicted a greater focus in future on measuring learning data in tertiary learning, saying that accountability in learning and teaching was currently pointless because no valid measuring systems existed.
Speaking in a debate on "the relationship between research and teaching", the SRC's new president, Lauren McDougall, said: "As students, we require primary and secondary teachers to go through rigorous training but don't expect the same of academics."
Universities focused on research skills but did not put the same focus on educational skills. A number of courses were taught by Graduate Teaching Assistants, many of whom were just a few years older than the undergraduates they taught – "so we can't expect them to be gifted educators".
"There needs to be more focus on developing academics as teachers so that they feel more comfortable in this," she said.
Professor Frank Coton, Vice-Principal Academic and Educational Innovation, described how the University of Glasgow was delivering more active learning spaces across the campus. The new Learning and Teaching Hub, opening next year, was designed to deliver active and collaborative learning and should therefore enable deeper learning to take place, he said.
Nobel laureate Professor Carl Wieman, who how focuses his work on undergraduate physics and science education, told the conference that an extensive body of research into university teaching did exist but was not widely known. Nevertheless there was compelling evidence that "discipline-based education research", reviewed by the US National Science Foundation, demonstrated that students engaged more and learned more in "active learning" classes than in lecturer.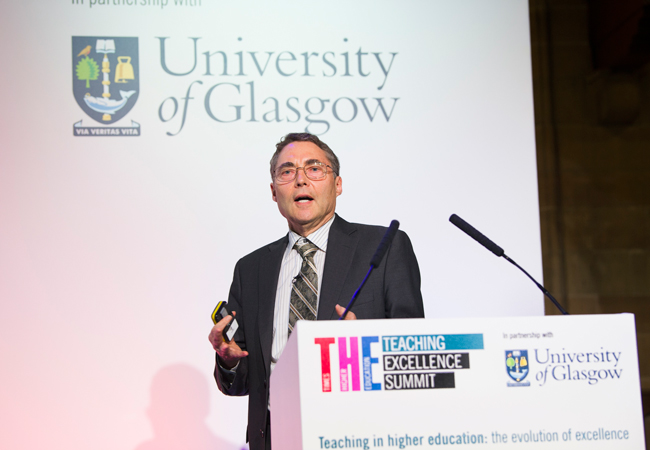 He stated: "There is no point of lecturing any more because it is clear that that is not effective any more."
Professor Jim Conroy, Vice-Principal Internationalisation, challenged this view, defending the place of the lecture.
"Like slow food, education requires concentration and reflection, analysis and judgement," he said.
The summit's debates ranged from "teaching and reputation", TNE (trans-national education), "positive disruption" to physical versus digital learning spaces.
The event included an opportunity to experience a virtual-reality fly-through of the new Learning and Teaching Hub, developed by Soluis, in a dome in the Cloisters.
---
First published: 14 July 2018
Related links