UofG scoops top prize at Inspiring City Awards
The University of Glasgow and Veterinary School student and runner Laura Muir have won top awards at Glasgow's 2017 Inspiring City Awards.
The awards, presented at a ceremony at the DoubleTree by Hilton Hotel in Glasgow, celebrate and reward the people and organisations that make Glasgow great.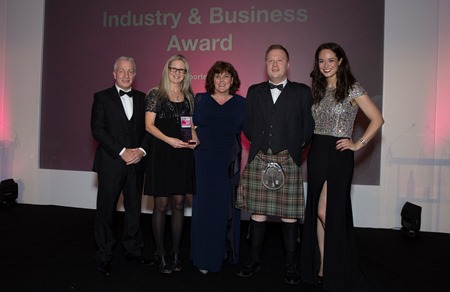 The University, led by the College of Medical, Veterinary and Life Sciences (MVLS), won the Industry and Business Award for its outstanding contribution to encourage, inspire and foster business growth and development in the city.
Laura Muir won the Sport Award for her outstanding and inspirational achievements in the field of running.
The University was recognised for its many innovative achievements at the Queen Elizabeth University Hospital (QEUH), including the creation of the new Clinical Innovation Zone (CIZ) and the opening of the new Imaging Centre of Excellence (ICE).
The CIZ includes 22,000 sq ft of dedicated space for companies to engage with academia and industry. As well as achieving UK Science Park status, the CIZ has been showcased as an exemplar of a facility designed to foster open innovation with industry.
The CIZ has already attracted companies to relocate in Glasgow from Singapore (Clinnovate), Germany (MR CoilTech) and California (BioSpyder), all of whom join the Stratified Medicine Scotland Innovation Centre (SMS-IC) and informatics company Aridhia at the QEUH location.
The opening of the new £32m Imaging Centre of Excellence (ICE), home to Scotland's only 7T MRI scanner, will allow imaging to be developed as key pillar of precision medicine, fostering innovation in healthcare through collaboration with companies including Toshiba Medical and Siemens.
The entire ICE development was funded externally (including £16M from Glasgow City Region City Deal) and will create almost 400 highly skilled jobs in Glasgow, attracting talent from academia and industry.

Dr Carol Clugston, Chief Operating Officer for the College of MVLS, said: "This award is a fantastic achievement for everyone involved at the College of MVLS, and the University of Glasgow as a whole.
"It is a great recognition of the University's key role in the development of a new biomedical innovation cluster at the QEUH, an area which is already thriving and is destined to be transformational for biomedical business growth in Glasgow."
The entire academic infrastructure to facilitate innovation at the QEUH now totals £80M, and has been independently estimated to achieve a GVA exceeding £100m.
The University was up against Barras Art and Design (BAaD), Collective Architecture and KC Group Shipping Ltd in their category; and Laura Muir won against Bala Sport, Glasgow Gladiators Powerchair Football Club and Scottish Sports Futures.
---
Enquiries: ali.howard@glasgow.ac.uk or elizabeth.mcmeekin@glasgow.ac.uk // 0141 330 6557 or 0141 330 4831
First published: 8 September 2017