University of Glasgow Honorary Degrees 2017
The University of Glasgow is awarding 15 honorary doctorates this year in recognition of achievements and contributions across a range of backgrounds, including peace campaigning, services to science and industry and comic art.‌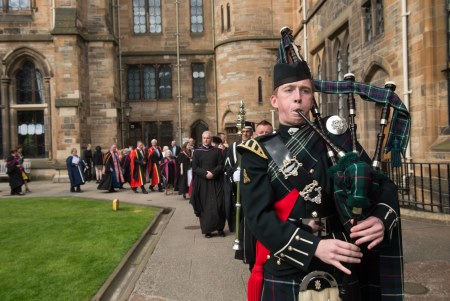 The first awards will be presented at an official ceremony on Commemoration Day, June 14, to mark the foundation of the University in 1451.
Among the recipients will be:
Vin Deighan, alias Frank Quitely, the world-renowned DC comic artist, the most in-demand graphic artist in the industry today. Frank Quitely, based in Glasgow, is a leading comic artist whose original artwork for Batman, New X Men and Superman is presently the subject of a major art exhibition at Kelvingrove Museum and Gallery, Glasgow.
Sir Paul Nurse, a geneticist and cell biologist, shared the 2001 Nobel Prize in Physiology or Medicine and received the Albert Lasker Award and the Royal Society's Royal and Copley Medals. He was knighted in 1999 and received the Legion d'honneur in 2003. Sir Paul is current Director of the Francis Crick Institute in London, and has served as Chief Executive of Cancer Research UK and President of Rockefeller University.
Rose Gentle, mother of 19-year-old Fusilier Gordon Gentle, a young soldier killed in Iraq in 2004. Rose Gentle is a founder member of Military Families Against the War and the Justice 4 Gordon Gentle campaign. She will receive her honorary degree at a service held at the University of Glasgow on November 30.
John Shaw, Vice Chairman of India's largest biopharmaceutical company Biocon Limited, and an alumnus of the University of Glasgow. During Mr Shaw's visit to the University, he and his wife, Biocon's managing director Kiran Mazumdar-Shaw, will also sign a Memorandum of Understanding to advance collaboration and partnership between the company and the University.
A further group of awards will be made during the summer and winter graduations 2017.
Professor Anton Muscatelli, Principal & Vice-Chancellor, University of Glasgow, said: "Awarding honorary degrees is an opportunity for the University to recognise the achievements of individuals from across all walks of life whose work and public spirited efforts have made a positive impact not just in Scotland, but the UK and around the world.
"We look forward to celebrating the successes of all our honorary graduands, and we also look forward to working with them in the future, for the common good."
The full list of honorary degrees 2017:
Commemoration Day Graduations, June 14, 11am
DOCTOR OF LETTERS (DLitt)
Vincent DEIGHAN (Frank Quitely)
Artist
Dame Minouche SHAFIK
Former Deputy Governor Bank of England
John TIFFANY
Theatre Director
DOCTOR OF SCIENCE (DSc)
Sir Paul NURSE FRS FREng
Scientist
John SHAW
Vice Chairman
Biocon Limited

DOCTOR OF THE UNIVERSITY (DUniv)
Robert CALDERWOOD
Former Chief Executive of Greater Glasgow & Clyde NHS Board

Amanda MCMILLAN OBE
CEO of AGS Airports Limited and Managing Director of Glasgow Airport
Summer Graduations 2017
DOCTOR OF LETTERS (DLitt)
Graham DONALDSON - 27 June 2017 11am
President of the Standing International Conference of Inspectorates (SICI)
Adele PATRICK - 16 June 2017 GSA
Lifelong Learning and Creative Development Manager,
Glasgow Women's Library
DOCTOR OF SCIENCE (DSc)
Dr Patrick VALLANCE - 29 June 2017 11am
President of Pharmaceuticals, GlaxoSmithKline plc
DOCTOR OF ENGINEERING (DEng)
Professor Yanrong LI – 26 June 2017 UESTC China
President of UESTC,
University of Electronics & Technology of China
DOCTOR OF MUSIC (DMus)
Roy McEWAN-BROWN – 23 June 2017 11am
Former Chief Executive and Director of Scottish Chamber Orchestra
DOCTOR OF THE UNIVERSITY (DUniv)
Professor Rashida MANJOO – 23 June 2017 4pm
United Nations' Special Rapporteur
On Violence against Women
Winter Graduations 2017
DOCTOR OF SCIENCE (DSc)
Dr Mene PANGALOS – 28 November 2017 4pm
Executive Vice President of AstraZeneca's Innovative Medicines and Early Development Biotech Unit
DOCTOR OF THE UNIVERSITY (DUniv)
Rose GENTLE – 30 November 4pm
Campaigner
Lectures
DOCTOR OF SCIENCE (DSc)
Tim COOK – 8 February 2017 6pm
CEO of Apple
---
For more information contact the communications office: 0141 330 3535 / media@glasgow.ac.uk
First published: 12 June 2017