Related links
University prospectus success at Heist Awards
Issued: Fri, 14 Jul 2017 11:27:00 BST
The University is celebrating success for the second year running in The Heist Awards, held last night in Manchester.
It won the Gold Award in the category for Best Postgraduate Prospectus and took the Silver Award for Best Undergraduate Prospectus.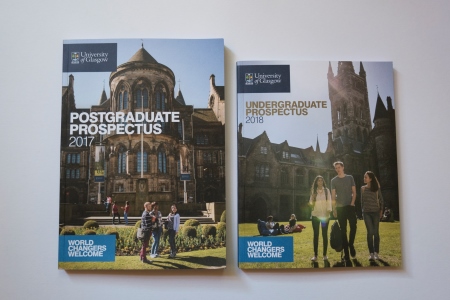 Rachel Sandison, Director of the University's Marketing, Recruitment and International Office, said: "This is a tremendous team achievement and I want to congratulate everyone involved in the creation and development of our prospectuses. The University of Glasgow is a fantastic destination for students studying at all levels and all disciplines, and these key publications reflect that. I am delighted that The Heist Awards have recognised the excellence of what we offer."
Now celebrating their 27th year, the Heist Awards celebrate the excellence and innovation of everyone involved in education marketing, from regional colleges to global university brands.
The University last year picked up the Gold Award for Most Effective Use of Social Media.
This year it was nominated in the following categories:
* Best Low Budget Initiative – For Mannequin Challenge (Christmas video)
* Most Effective Use of Social Media – Helter Skelter April Fools'
* Best Postgraduate Prospectus
* Best Undergraduate Prospectus
---