A China 'first'
Published: 4 July 2017
The University has celebrated the graduation of the first cohorts of students to achieve dual and joint degrees at Nankai University in Tianjin and UESTC in Chengdu. VIDEO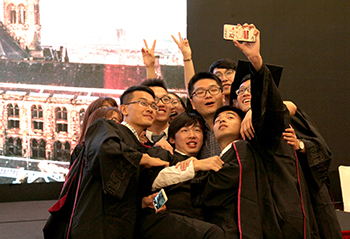 The University has celebrated the graduation of the first cohorts of students to achieve dual and joint degrees at Nankai University in Tianjin and UESTC in Chengdu.
Professor Sir Anton Muscatelli, Principal and Vice-Chancellor of the University of Glasgow, said: "Building long-term, mutually-beneficial partnerships in China is a key part of our internationalisation strategy, and increasing our transnational education provision is an important element of that. These graduation ceremonies marked an important stage in our burgeoning relationship with two of China's most respected universities. Both graduation ceremonies were a joyous celebration of the achievements, hard work and dedication of these students who were a credit to their families and teachers. It was a pleasure and an honour to share these happy occasions with our new alumni."
On June 26, the University of Glasgow-Nankai University Joint Graduate School - the first postgraduate higher education programme to be set up on a Chinese university campus in partnership with a UK institution – hosted the graduation ceremony for the first cohort of postgraduate students to complete dual-degree MSc programmes. Nankai is one of China's top universities, ranked 10th in China in the QS world rankings and is a long term partner for Glasgow. ‌
The two-year programmes – MSc degrees in International Relations, Environmental Management, and Urban and Regional Planning - began in September 2015. A total of 29 students graduated in the first cohort; many have already lined up good jobs and attribute their employability to their Masters degrees.
A new Masters programme – MA Translation Studies – will be launched in September 2017. Nankai University and the University of Glasgow also signed an MoU agreement to open up the JGS to international students, including Glasgow graduates, in future, thus enhancing the School's position as a leading model of TNE (Transnational Education).
Top universities
On June 28, the University of Glasgow and its partner institution, UESTC (University of Electronic Science and Technology of China) in Chengdu, each awarded degrees to 109 students - the first to graduate in jointly-delivered engineering degrees. The students received two degrees – one from each institution – marking the end of their four-year BEng (Honours) in Electronic and Electrical Engineering. Some 82% of the students are going on to postgraduate study, many in the top universities in the world.
The University of Glasgow and UESTC have had a Joint Education Programme, based at UESTC's Qingshuihe campus in Chengdu, since 2013. Last year the two institutions established a Joint Education Institute (JEI) in Chengdu, known as the Glasgow College UESTC.
In the past four years, student numbers have grown significantly: in 2016-17 the JEP/JEI have 894 students while projected numbers for 2020-21 are 2492. It is expected that numbers for students on the 2+2 programme (studying in Chengdu and Glasgow) will increase to at least 50 by September 2020 and potential MSc students for next year will be 18. President Li, head of UESTC, was awarded an Honorary Doctorate of Engineering.
On the day following the graduation, a UK-China Emerging Technologies workshop was held at UESTC featuring experts from the University of Glasgow, UESTC, and other prestigious academic institutions in China. A second UCET workshop will be held at the University of Glasgow in August 7-9.
UESTC is renowned as the birthplace of the national electronics industry in China and is one of the institutions chosen by the Chinese Government to be developed as one of the country's top 100 universities.
In addition to the formal graduation ceremonies, a tripartite sporting event was held in Tianjin. Teams from Nankai and Glasgow competed against each other in badminton and teams from Glasgow Nankai and UESTC competed in a seven-a-side football tournament. The "black and golds" from Glasgow won in both sports.
The sporting contest was enabled by financial support from Hanban, the Chinese Ministry of Education's Office for Chinese Language, which also supports the Confucius Institute at the University of Glasgow.
Both events received widespread coverage on the Chinese social media channels WeChat and Weibo: 43 posts across all ceremonies, including 13 video posts, had a reach of 172,000. The graduations were also covered by the Xinhua News Agency, People's Daily, Tianjin Daily, Bohai Morning Post, Tainjin TV and Radio Tianjin.
Nankai Graduation
UESTC Graduation
Honorary degree for President Li
---
First published: 4 July 2017