Dr Hamaseh Tayari - updated statement from the Principal
Published: 30 January 2017
The Principal of the University, Professor Anton Muscatelli, has offered support to veterinary PhD student Dr Hamaseh Tayira after her transit from Costa Rica home to Scotland was blocked by new USA visa regulations because she holds an Iranian passport.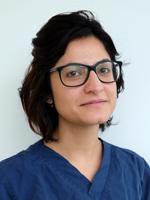 When I became aware on Saturday evening that one of our postgraduate veterinary students, Dr Hamaseh Tayari, was being prevented from travelling back from a holiday in Costa Rica through the United States and on to Glasgow I was both concerned and appalled. Concerned for the safety and well being of a young woman who, through no fault of her own, was stranded in Central America. Appalled because the reason for her predicament was not because she had done something wrong. Not because she was a danger to the security of the United States. But simply because she holds an Iranian passport. Though like me she was brought up in Italy, her family having moved after the Iranian Revolution when she was just two years old.
Colleagues from the university immediately made contact with Hamaseh and we have made clear that we will do all we can to support her when she is back in Scotland, given the additional travelling costs she has incurred to navigate back to Glasgow via Spain. Just as important is to let Hamaseh and the wider world know that our university maintains and cherishes values that we will not compromise upon.
The free movement of people, of ideas, of intellect is surely the very hallmark of civilized society. It is in the University of Glasgow's DNA, and always has been.
In the 19th century and against a backdrop of prejudice and hate, the University of Glasgow welcomed African-Americans as students. We educated the first black doctor, James McCune Smith who had been born a slave in New York in 1813. McCune Smith later returned to the United States where he went on to become a successful physician and one of America's foremost abolitionists and educators.
In the 20th Century those persecuted or discriminated against because of their religion and race were welcomed at the University of Glasgow for the ideas and talent they brought. The contributions they made, collective and individual, have been of immense benefit to the advancement of knowledge and betterment of society.
More recently we have made scholarships available to refugees fleeing from the war in Syria.
Having spoken with Hamaseh I have been hugely impressed at how she is coping with the nightmare situation in which she finds herself. But I have been impressed too by the huge outpouring of support that has been shown across Scotland and the UK, particularly on twitter and through direct emails that have come in to the University from people who are outraged and want to help. All of this, I know, has greatly touched and heartened Hamaseh. I think it also confirms what we all like to believe is true. In this country we value individuals for what they are and the worth they bring, not for the stamp on their passport, the colour of their skin or the religion they practise.
Professor Anton Muscatelli, Principal of the University of Glasgow
---
Media enquiries: media@glasgow.ac.uk / 0141 330 3535
First published: 30 January 2017