Mystery surrounds a rare "Burns" songbook donated to Special Collections
A rare collection of printed song sheets from the time of Robert Burns, compiled in a book belonging to 'Agnes Burns' has been donated to the University of Glasgow's Archives and Special Collections by a University graduate and businessman.
The book comprises of 18th century songs sheets containing over 100 songs with music, many are Scottish standards as well as a large quantity of Irish songs.
The book has been donated to the University of Glasgow by businessman and former University student George Walker, in memory of his late wife Margaret.
The collection was originally discovered ten years ago in a street bookstall in Haddington, near Edinburgh.
It is commonly known that Robert Burns' mother Agnes Burns, or Burnes as she was originally called, lived near Haddington for many years, where she finally died.
The book, which has a handwritten title 'Agnes Burn's her book 1801' on the inside cover, was bought by a bookshop owner who spotted it in a collection of books at a local street bookstall.
Unsure about the authenticity of the 'Agnes Burn's' inscription, the bookshop owner stored the book among other valuable collections where it lay awaiting a special buyer for many years. George Walker, a successful businessman and former student at the University of Glasgow, heard about the book and eventually offered to buy it, and has donated it to the University as a memorial to his late wife.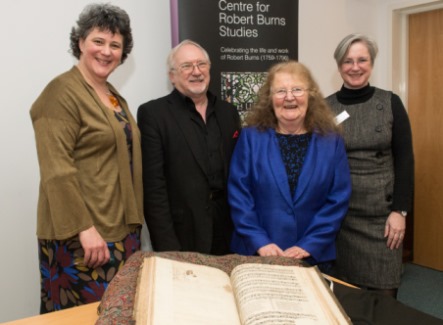 Academics at the University's Centre for Robert Burns Studies are keen to study and research the book to determine its authenticity, in particular to establish if it was originally owned by Agnes Burns in 1801; and which 'Agnes' it could be as Robert Burns' mother, sister and niece were all called Agnes.
Towards the back of the book there is handwriting referring to 'whale fisheries' followed by a series of financial figures, which might possibly be an excise entry in Robert Burns' handwriting. It is possible they were part of Robert Burns' own collection of song sheets, handed down to his sister.
Professor Kirsteen McCue, Centre for Robert Burns Studies, while commenting on the authenticity of the book, said: "Certainly all the markers are pointing in the direction that this could be Agnes Burns, Robert Burns' sister, not his mother.
"Certainly the 1801 date would be more fitting. But we need to do a lot of research and investigative work, which is what we love doing, to try and determine who owned this book and how old it is. It's very exciting."
---
First published: 19 January 2017