UofG signs historic agreement with Thailand's Mahidol University
The College of Medical, Veterinary and Life Sciences (MVLS) is proud to announce the historic signing of an agreement that signifies the commencement of a joint PhD programme with the Faculty of Medicine, Siriraj Hospital at Mahidol University, Thailand's top research-intensive University. This is the first ever International Joint PhD program supported by the College.
The agreement was fostered by the earlier signing of an MoU brokered by Professor Dame Anna Dominiczak, Vice-Principal and Head of the College of MVLS, and Professor Fran Coton, Vice Principal and International Dean for South East Asia.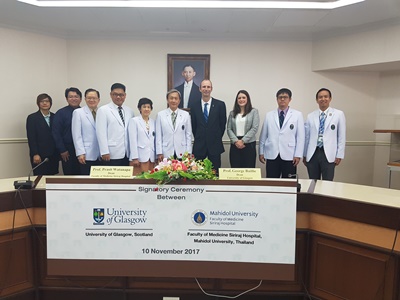 The deal was signed for the College by George Baillie, Professor of Molecular Pharmacology and Dean of Graduate Studies, who, in conjunction with colleagues from the Academic Collaborations Office and External Relations, negotiated the deal with representatives from Mahidol.
The agreement will support a two-way exchange of PhD students, supported by joint supervisory teams at both institutes, with students obtaining a single joint degree but graduating at both institutions.
Professor Baillie said: "The College of MVLS is delighted by this initiative, which will strengthen our links with the strongest university in Thailand and enhance student development and mobility."
Prof Baillie visited Mahidol University in November to participate in a signing ceremony for the Joint PhD programme.
The Dean of Medicine at Mahidol University has identified the first group of PhD students from Laos, Myanmar and Thailand. The students will participate in the programme and become future staff at Mahidol University.
Mahidol University has a new unit to manage research excellence. It has identified three key research areas: infectious disease (particularly dengue and antimicrobial resistance); cancer (immunotherapy, precision medicine, system pharmacology, breast, rectal, brain and pancreatic cancers) and immunology. These three areas will be the initial focus of the Joint PhD programme. However, in time the programme will cover: regenerative medicine; clinical research and big data.
---
Enquiries: ali.howard@glasgow.ac.uk or elizabeth.mcmeekin@glasgow.ac.uk // 0141 330 6557 or 0141 330 4831
First published: 17 November 2017