Inaugural symposium for Molecular Pathology Node highlights importance of precision medicine
Inaugural symposium for Molecular Pathology Node highlights importance of precision medicine
Issued: Tue, 25 Oct 2016 09:19:00 BST
The inaugural annual University of Glasgow MRC Molecular Pathology Node symposium highlighted the importance of a collaborative approach to precision medicine, yesterday, Monday 24 October.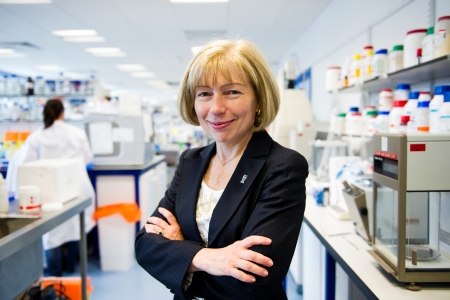 The University of Glasgow's MRC Molecular Pathology Node is the largest of its kind in the UK and has received £3.4 million from the Medical Research Council (MRC) and the Engineering and Physical Sciences Research Council (EPSRC).
The symposium was held at the Glasgow Hilton Grosvenor and featured talks from Vice Principal and Head of the College of Medical, Veterinary and Life Sciences Professor Dame Anna Dominiczak as well as from the Director of the MRC Molecular Pathology Node, Dr Karin Oien.
The symposium also featured contributions from Dr Desmond Walsh, Head of Populations and Systems Medicine Board and Lead of Stratified Medicine at the MRC and David Sibbald, the Executive Chairman of Aridhia.
There were around 150 delegates registered for the event, made up of academia, NHS and industry partners. Delegates also included representatives from official partners of the Node, including Aridhia, Illumina, Leica, Sistemic and Thermo Fisher.
Professor Dame Dominiczak said: "Through the MRC Molecular Pathology Node, our collaboration with a number of industry illustrates that bringing industry, academic research and the NHS closer together will provide the ideal environment for the rapid development of precision medicine health solutions.
"This collaborative environment will in turn bring improved patient care and ensure the creation of sustainable growth advancement. The Node will enable scientists, pathologists and clinicians to collaborate with our industry partners in developing new diagnostic tests."
The Glasgow Molecular Pathology Node was established in November 2015 with MRC/EPSRC funding and is located in the Laboratory Medicine Building within the Queen Elizabeth University Hospital (QEUH) campus.
Embedding the Node within this large high-quality clinical laboratory enables costs and cultures to be shared and development pipelines to be firmly rooted in clinical practice and widely translatable.
The Node is a crucial component of Scotland's Precision Medicine Ecosystem, a strategic umbrella organisation which oversees world-changing precision medicine research and work throughout Scotland.
The university is at the forefront of precision medicine research in Scotland with strategic investment in key facilities including the Node, as well as the University of Glasgow Innovation floor in the QEUH, which is home to Stratified Medicine Scotland (SMS-IC).
Dr Oien said: "Glasgow is central to precision medicine development in the UK and worldwide. Our investigators include global opinion leaders with major roles in international and academic studies and industry efforts."
"Our excellent training in molecular pathology, genetics, informatics and stratified medicine will address national skill shortages and contribute to a workforce capable of developing, undertaking, interpreting and applying the results of novel molecular diagnostics, across a range of professions and expertise from geneticists, pathologists, clinical and other scientists, informaticians and clinicians across the hospital practise and primary care."
---
ali.howard@glasgow.ac.uk or elizabeth.mcmeekin@glasgow.ac.uk // 0141 330 6557/4831