Poetry festival celebrates 18th Century "unsung" Scottish hero
Poetry festival celebrates 18th Century "unsung" Scottish hero
Issued: Thu, 06 Oct 2016 06:00:00 BST
A two-day festival is being held in a Scottish Borders pub to celebrate the life and works of an 18th Century "unsung" Scottish poet Allan Ramsay.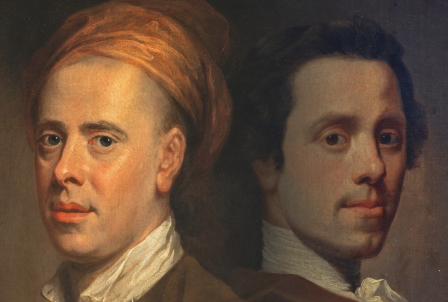 Allan Ramsay (L) and son

Literary academics, politicians and Allan Ramsay fans will come together for the weekend celebration (October 15-16) to mark his poetry and launch a new cultural heritage resource centre dedicated to his life and works.
Professor Gerard Carruthers, co-director of the Centre for Robert Burns Studies at the University of Glasgow, who will be guest at the festival, summed up the influence and genius of the highly influential Scots poet.
"Without doubt Allan Ramsay is an unsung hero of Scottish poetry. He doesn't get sufficient praise or recognition for what he achieved during his lifetime, but the impact he had on others around him at the time was monumental, and that is what this festival is all about.
"It is fair to say without Rasmay there would be no Robert Burns. He was the first 18th Century Scots poet and the father of Scots poetry, whose creativity heavily influenced art, music and theatre at that time. Allan Ramsay's genius really cannot be understated."
Among the many contributors attending the festival will be Professor Murray Pittock, Pro-Vice Principal, University of Glasgow and General Editor of the Edinburgh works of Allan Ramsay from Edinburgh University Press
Professor Pittock said: "Allan Ramsay was not only a pioneer of the Romantic movement and a collector and editor of Scots songs; he was also a cultural innovator of the Enlightenment.
"He founded the first subscription library in the British Isles, the first established theatre in Scotland, where he seems to have pioneered early bird and season ticket options, and co-founded St Luke's Academy, Scotland's first professional training school for artists.
"In his poetry he developed modern literary Scots. Ramsay invented the term 'Doric' to describe Scots and was a huge influence on Robert Burns and all those who came after."
The inaugural Allan Ramsay Festival is being hosted by Rosemary Brown and Kenny Hall, licensees of the appropriately named venue the Allan Ramsay Hotel in Carlops, in the Scottish Borders. The festival coincides with the poet's birthday.
The coaching inn was built in 1792 in recognition of Allan Ramsay, more than thirty years after his death. Ramsay (1684-1758) was a regular visitor to the area which became an affectionate inspiration for some of his work. His son, also called Allan, was a famous portrait artist whose celebrated works included portraits of King George III, Bonnie Prince Charlie and Flora McDonald.
During the festival local MSP Christine Grahame will unveil an Historic Environment Scotland plaque on the Allan Ramsay Hotel, commemorating Ramsay's status as a founder of Romanticism and modern Scottish poetry.
Rosemary Brown and Kenny Hall first approached Pub is The Hub for help and advice about how their pub could play a part in community life. They gauged public opinion through a questionnaire, which was unequivocal. They secured a £3,720 grant, from the £30,000 fund announced by the Scottish Government earlier in the year for rural pubs , to establish the cultural heritage resource centre. The couple have since set up information about local walks featured in the Ramsay poetry, and there will be a permanent Allan Ramsey resource at the pub including copies of key works by Ramsey senior; a specially commissioned reproduction of an historic portrait depiction of Allan Ramsay as The Gentle Shepherd; and guided walks around Carlops.
John Longden, Chief Executive of Pub is The Hub said: "This is the first project that we have done in Scotland in collaboration with the Scottish Borders Council and the Scottish Government, so it seems apt that it should be to celebrate the lives of two of Scotland's most celebrated writers and artists.
"Pub names reflect the times in which they were built and it is fantastic that Rosemary and Kenny are helping to reinvigorate the Ramsay links with overwhelming encouragement from their community. I am delighted that we have been able to guide and support their efforts."
Councillor Stuart Bell, Economic Development portfolio holder at Scottish Borders Council, welcomed the news of the Allan Ramsay festival. He added "The Scottish Borders literary and artistic heritage is one of our major assets, and I'm pleased to see Allan Ramsay, father and son, celebrated in this way. I'm thrilled the hotel has been able to develop this festival in October, and we're delighted to have the support of Pub is The Hub in developing projects with licensees across the Borders'.
---
More information: Jane Chilton, University of Glasgow Communications Office. Tel 0141 330 3535 / jane.chilton@glasgow.ac.uk