Professor Murray Pittock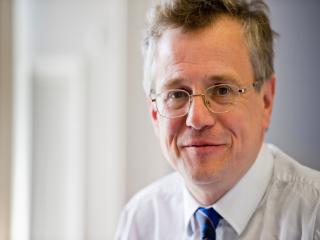 R309 Level 3, School of Critical Studies, 7 University Gardens, Glasgow G12 8QH
Pro-Vice Principal - Special Projects (Senior Vice Principal)
Bradley Chair of English Literature (English Literature)
Personal assistant: Mrs Joanne Shearer
telephone: 01413308496
email: Joanne.Shearer@glasgow.ac.uk
Murray Pittock is Bradley Professor of English Literature. He has worked at the universities of Manchester (where he was the first professor of Scottish literature at an English university), Edinburgh, Oxford, Aberdeen and Strathclyde, and has had or will have visiting appointments at the Centre for Advanced Welsh and Celtic Studies (2002), Charles University, Prague (2010), Trinity College, Dublin (2008), Auburn (2006), Notre Dame (2014), USC (2015) and Yale (1998/2000). He is a Fellow of the Royal Society of Edinburgh, the English Association, the Royal Historical Society, the Royal Society of Arts and the Society of Antiquaries of Scotland among other bodies. Murray's books are set on courses in English, History, Irish Studies, theology and politics in around twenty-five countries, and he has been awarded or shortlisted/nominated for a number of literary and historical prizes and prize lectureships. He is one of the few UK academics to be a prize lecturer of both the Royal Society of Edinburgh and the British Academy, and has acted as an external assessor for chairs and grants from the Ivy League to the Middle East. His most recent books include Material Culture and Sedition (2013-'Required reading for those who wish to develop literary studies in a dialogue with the theory and analysis of material cultures'-Jon Mee); The Edinburgh Companion to Scottish Romanticism(2011-'Exemplary as always - The Drouth), Robert Burns in Global Culture (2011- 'THE cutting edge of critical study on Burns today'-Electric Scotland), The Myth of the Jacobite Clans: the Jacobite Army in 1745 (2009-'formidable talents…the doyen' (Times Higher)), Scottish and Irish Romanticism (2008, 2011-'An outstanding contribution…The book's comparative reach sets it apart, and confirms the leading role that Murray Pittock has played in the reorientation of British literary studies…Indispensable reading' (Ian Duncan, Scottish Studies Review)) and TThe Road to Independence? Scotland Since the Sixties (2014, first published 2008, Catalan edition 2009, launched by the First Minister in Barcelona).
Since 2004, he has won five grants to work on redefining national Romanticisms, including four from the Arts and Humanities Research Council: currently he is PI of the AHRC Connecting Communities award on cultural memory and a CI of AHRC'Editing Robert Burns for the 21st Century'. His recent AHRC Beyond Text grant is located at http://www.gla.ac.uk/schools/critical/research/researchcentresandnetworks/robertburnsstudies/majorresearchprojects/burns/. He is also working on a monograph Culloden in history, historiography and cultural memory for Oxford University Press. In 2006, he co-organized the "Scottish Romanticism in World Literatures" conference at UC Berkeley, which marked a watershed in the recognition of a distinct Scottish Romanticism and its global encounters (see also the College research theme: http://www.gla.ac.uk/colleges/arts/research/scottishstudiesglobal/), and in 2014 is chairing the committee for the first World Congress of Scottish Literatures.
 Murray has appeared in the UK and overseas media on nearly 400 occasions (recently scripting and presenting the series The Roots of Scottish Nationalism for Radio 4 to an audience of 1.25 million daily with an 81% UK-wide approval rating) and has co-curated a number of exhibitions. He regularly acts as a consultant, most recently on the ballad opera Macpherson's Rant, premiered in Edinburgh in October 2009. Murray supervises PhDs in the areas of Burns, Cultural History, Irish Studies, Jacobitism, Romanticism, Scott, Scottish Studies and other fields. His most recent four PhD completions in 2012-13 are on Walter Scott, Jacobitism, the Cultural History of the Bagpipe and The Influence of Scottish Romanticism on Canadian Literary Identity.
Jonathan Henderson (AHRC Project Funded): 'Robert Burns's Engagement with the Language of Sentiment in 18th Century Writings' (2nd supervisor)
Niall Henderson: 'Imagination and Genre in the Writings of David Hume' (2nd supervisor)
Craig Lamont (AHRC CDA with Glasgow Life): 'Georgian Glasgow'
James Morris: 'Romantic Writing and Colonialism' (2nd supervisor)
Molly Rorke: 'Dougal Graham's History of the Rebellion' (2nd supervisor)
Michael Shaw (AHRC funded): 'Scotland's Fin-de-Siècle: National Discontent and its relationships to Stadialism and Decadence'