University to honour outstanding individuals in fields ranging from science to sport
The University of Glasgow is awarding 22 honorary doctorates this summer in recognition of achievements and contributions across a range of backgrounds, including law, sport, science and charity.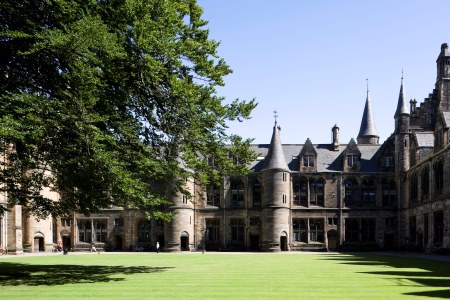 Among those accepting honorary degrees on Commemoration Day – June 15 - will be Judy Murray, honoured for her contribution to tennis at both grassroots and professional level; Lesley Thomson QC, former Solicitor General for Scotland – only the second woman to hold that position; Phil Smith, Chief Executive, UK and Ireland, of Cisco International Ltd for his contribution to the Information and Communications Technology industry and his role in inspiring young people from all backgrounds to take up technology careers.
Two joint degrees are being awarded: to Malcolm and Margaret Howat, whose Howat Foundation has supported some of the most significant cancer research breakthroughs made at the University and whose philanthropic work extends into many other areas; and Alastair Kellock and Gregor Townsend, Club Captain and Head Coach respectively of Glasgow Warriors for their contribution to rugby and community engagement. Former Scotland rugby player and BBC broadcaster John Beattie also becomes a Doctor of the University.
Professor Jim Hough of the University's School of Science and Engineering, whose lifelong quest to discover gravitational waves was fulfilled last year, becomes a DSc in tribute to his outstanding contribution to one of the most significant scientific discoveries of the century.
Stephen Conway, chief executive of Erskine Hospital, will become a Doctor of the University to mark Erskine's 100th anniversary. Other recipients of a DUniv include Lily Greenan, former chief executive of Scottish Women's Aid, and Professor Ke Gong, President of Nankai University, which is one of the University of Glasgow's most important academic partners.
The new awards are in addition to a Doctor of Letters (DLitt) degree conferred posthumously upon the Scottish writer William McIlvanney in April this year.
Principal and Vice-Chancellor Professor Anton Muscatelli said: "It is a privilege and honour for the University to confer honorary degrees on such outstanding men and women. From our part in the discovery of gravitational waves, which the world celebrated in February, to achievements in sport and charitable ventures, to name but a few, we can truly be proud of the inspiring people around us."
Commemoration 15 June 2016
DOCTOR OF LAWS (LLD)
Lesley THOMSON QC
Former Solicitor General for Scotland
DOCTOR OF LETTERS (DLitt)
Janet MCBAIN
Archivist to the Scottish Screen Archive
Professor Sir James MIRRLEES
Master of Morningside College
Hong Kong
DOCTOR OF SCIENCE (DSc)
Phil SMITH
Chief Executive, UK & Ireland
Cisco International Ltd
DOCTOR OF THE UNIVERSITY (DUniv)
Stephen CONWAY
Chief Executive of Erskine Hospital
Mr Malcolm and Mrs Margaret HOWAT
Founder Howco Group PLC
Co-Founders of the Howat Foundation
Lily GREENAN
Former chief executive of Scottish Women's Aid
Professor Ke GONG
President, Nankai University
Alastair KELLOCK /Gregor TOWNSEND
Club Captain/ Head Coach
Glasgow Warriors
Judy MURRAY
Tennis Coach
David ROSS
Convenor, Glasgow University Court

College Graduations Summer 2016
DOCTOR OF LAWS (LLD)
William David Hamilton SELLAR – 23 June 2016 11am
Leading legal historian of Scotland
DOCTOR OF LETTERS (DLitt)
Graham BERRY (GSA) – 12 July 2016
Former CEO of the Scottish Arts Council
Christine BORLAND (GSA) – 22 June 2016
Baltic Professor of Fine Art
BALTIC & Northumbria University, Newcastle
Pam HOGG (GSA) – 22 June 2016
Fashion Designer, Pam Hogg Fashion
Professor Emeritus Máirtín Ó MURCHÚ – 27 June 2016 4pm
Emeritus Professor of Irish,
Trinity College, Dublin
DOCTOR OF SCIENCE (DSc)
Professor Shankar BALASUBRAMANIAN - 28 June 11am
Professor of Medicinal Chemistry
University of Cambridge
Professor James HOUGH, OBE FRS FRSE – 28 June, 11am
Research Professor of Natural Philosophy,
University of Glasgow
Professor George DAVEY-SMITH – 30 June 2016 4pm
Epidemiologist, University of Bristol
Professor Francis G. DUNN – 30 June 2016 4pm
President of the Royal College of Physicians and Surgeons of Glasgow
DOCTOR OF VETERINARY MEDICINE & SURGERY (DVMS)
Lord Sandy TREES – 1 July 2016 11am
Professor of Veterinary Parasitology, University of London
and a Crossbench member of the House of Lords
DOCTOR OF THE UNIVERSITY (DUniv)
John BEATTIE - 30 June 2016 11am
Former Scotland Rugby player and Broadcaster
Memorial Service
DOCTOR OF LETTERS (DLitt)
William Angus MCILVANNEY - 2 April 2016
Writer
---
First published: 9 June 2016