Professor Sheila Rowan appointed Chief Scientific Adviser
Professor Sheila Rowan MBE is to be Scotland's next Chief Scientific Adviser, Deputy First Minister John Swinney has announced during a visit to the University of Glasgow.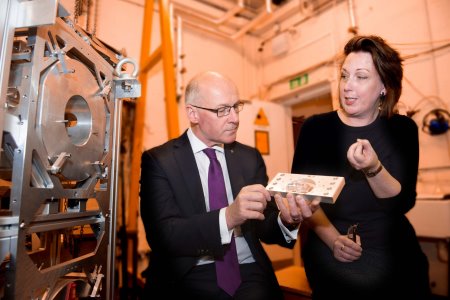 Mr Swinney and Science Minister Shirley-Anne Somerville met Professor Rowan at the University's Institute for Gravitational Research, of which she is Director.
Research carried out by the Institute was part of a global effort leading to the discovery of gravitational waves, one of the most significant scientific discoveries of this century, with the international team involved being awarded the 2016 Special Breakthrough Prize in Fundamental Physics.
John Swinney, Deputy First Minister and Cabinet Secretary for Education and Skills, said: "I am delighted to welcome Professor Rowan to the Scottish Government and look forward to working with her as Chief Scientific Adviser.
"The Scottish Government values science and the expert scientific advice provided by our network of specialist science advisers. As CSA, Professor Rowan will help to ensure that science informs the Scottish Government's work and advise on the impact that new developments in science may have."
Minister for Further Education, Higher Education and Science Shirley-Anne Somerville said: "Professor Rowan's work is a fantastic example of our world-leading science base, and she is a great advocate of its potential to benefit Scotland's economy, environment and people. I hope that she will also inspire many of our young people to consider a future career in science."
Professor Rowan said: "This is an exciting time to join the Scottish Government and I am looking forward to working with Ministers and officials to show the added value that science advice can bring to their work. I'm also keen to meet scientists across Scotland so that I can fully appreciate the potential impact of new developments in science, engineering and technology."
Professor Sheila Rowan speaks about her new role
University of Glasgow's Principal and Vice Chancellor, Professor Anton Muscatelli, welcomed the appointment. He said: "Sheila Rowan is an outstanding scientist as was shown through the work she and her team contributed to the discovery of Gravitational Waves – one of the most significant scientific breakthroughs in recent decades. She is also a brilliant communicator and a superb role model. Sheila is an excellent choice as Chief Scientific Adviser for Scotland.
"Sheila follows on from the lead given by another University of Glasgow academic - Professor Muffy Calder - who was Scotland's Chief Scientific Advisor from 2012-15.
"We are delighted that another of our leading professors will hold this position at a time when the role of science in society and the economy is more important than ever. Everyone at the University of Glasgow wishes Sheila well in her new role."
Dame Jocelyn Bell Burnell, President of the Royal Society of Edinburgh, welcomed Professor Rowan's appointment: "The Royal Society of Edinburgh is strongly of the view that expert scientific advice should be available to the Scottish Government when considering policy issues. We therefore welcome the news that Professor Rowan has taken up the crucial Chief Scientific Adviser post and look forward to offering support to her in the future."
Professor Rowan will start her new post of Chief Scientific Adviser for Scotland on 13 June 2016.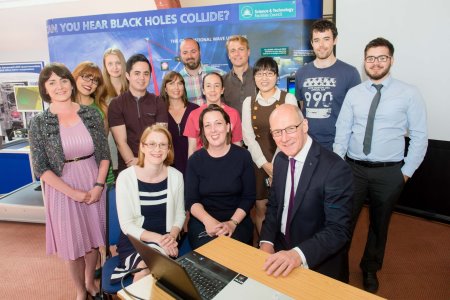 The discovery of gravitational waves earlier this year both confirmed Einstein's theory predicting their existence and showed that the collision of two black holes could be detected from their gravitational ripples travelling across the universe.
In line with previous CSA appointments, this position will be a three-days-a-week secondment to the Scottish Government for three years, with the possibility of further extension. The CSA Scotland will provide advice in a range of policy areas, focusing on strategic and/or cross-cutting issues, particularly in policy areas not already covered by the Chief Scientist (Health) and the CSA for Rural Affairs, Food and Environment. The CSA Scotland is an ex officio member of the Scottish Science Advisory Council and will work closely with the Council to advise the Scottish Government.
Professor Rowan has been Director of the Institute for Gravitational Research at the University since 2009. She received an MBE in 2011.
After her PhD studies in Glasgow, Professor Rowan held various positions split between the University of Glasgow and the Edward L. Ginzton Laboratory at Stanford. She returned to Glasgow in 2003, becoming Professor of Experimental Physics in 2006.
Her research is targeted at developing optical materials for use in gravitational wave detectors, and her recent work has been a crucial part of the Advanced LIGO upgrades, carried out between 2010 and 2015, that contributed to one of the most significant scientific breakthroughs of this century: the first detection of gravitational waves announced in February 2016, resulting in a share of the 2016 Special Breakthrough Prize in Fundamental Physics for her and the members of her team in Glasgow.
At the Institute Professor Rowan leads a group of around 60 researchers developing detectors and signal analysis methods to search for gravitational waves both on the ground and from space. She currently chairs the Gravitational Wave International Committee, focussed on co-ordinating and shaping the global strategic landscape of gravitational wave research.
---
Media enquiries: liz.buie@glasgow.ac.uk / 0141 330 2702
First published: 8 June 2016