Shakespeare's 400th anniversary tribute night
Published: 25 April 2016
University of Glasgow stages Shakespeare's 400th anniversary tribute night with a successful collaboration production Dream On!
It was an evening like no other, and one which Shakespeare would have undoubtedly been proud of.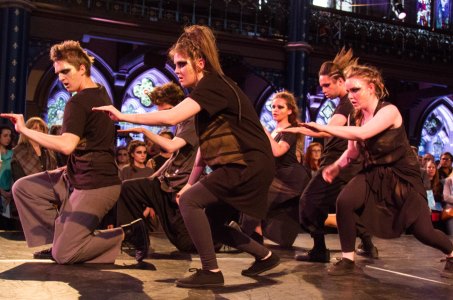 The University of Glasgow played centre stage to a special tribute night to the Bard of Avon, to mark the 400th anniversary of his death.
As part of the Shakespeare Live events staged throughout the UK, the University's Bute Hall and cloisters took centre stage for the elaborate theatrical production. Performed in front of a live audience, the theatrical spectacle was also streamed live online by the BBC.
Dream On! was a unique collaboration production between the University of Glasgow's dramaturgy students and students from the Royal Conservatoire, the Glasgow School of Art, with the music on the evening performed by the BBC Scottish Symphony Orchestra.
Leading Scottish theatre director Graham McLaren, the man behind critically-acclaimed National Theatre of Scotland productions including The Tin Forest and In Time O' Strife, directed on the night which celebrated the life, work and legacy of Shakespeare. The performance was one of his final projects in Scotland before he takes up his new role as co-Director of the Abbey Theatre in Dublin.
Professor Anton Muscatelli, Principal of the University of Glasgow, who attended the evening, said after the perfomance: "It was a magical evening and testament to all the hard and creative work invested by all those who took part.
"This was an ambitious, multi-arts experience, the planning of which spanned several months, combining performances, screenings, music and exhibitions, and involved hundreds of students, artists, designers, musicians and academics from across all four organisations involved. It was a unqique collaboration, but clearly one which has been ground breaking and tremendously successful."
Dream On! was inspired by themes in Shakespeare's A Midsummer Night's Dream. Over the last six months hundreds of performers, composers, designers, film makers, sound and light designers and technicians, dramaturgs, academics and professional musicians have collaborated to create all aspects of this production from the music and performance, to garments, digital and interaction design elements on the main stage, and even the brand identity.
---
More information Jane Chilton, Communications Office jane.chilton@glasgow.ac.uk / 0141 330 3535
First published: 25 April 2016