University in talks with Chinese officials on graphene research and development
One of China's leading industrial development areas is in exploratory talks to collaborate with the University of Glasgow on graphene research.‌
A team led by Dr Ravinder Dahiya, a Reader in Electronic and Nanoscale Engineering in the School of Engineering, last year made a significant breakthrough in graphene production.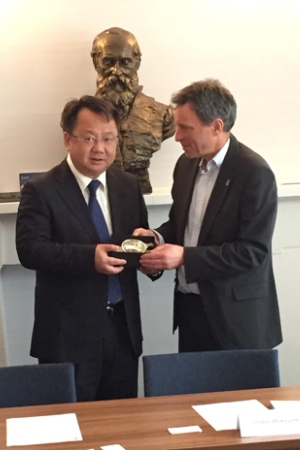 Graphene was discovered 10 years ago and was hailed as a wonder material as it is just a single atom thick, but is flexible, stronger than steel and capable of conducting heat and electricity efficiently. Combined, these properties mean it could revolutionise many fields including medicine, electronics, materials and energy.
However, widespread industrial adoption of graphene has been limited because of the expense of producing it.
Late last year, however, the University's researchers announced they had found a way of producing large-area graphene around 100 times cheaper than before, using the same cheap type of copper used to manufacture lithium-ion batteries found in many household devices.
Officials from Wuxi Huishan District Government, in the Jiangsu province of China, last week visited the University as part of their plans to invest in a graphene research and development complex in Wuxi and to work with world leaders in this particular area.
The delegation met Professor Jon Cooper, Vice Principal Innovation & Knowledge Exchange, and, in an exchange of gifts, were presented with a University of Glasgow quaich. They discussed Dr Dahiya's work on graphene with him, visited his Bendable Electronics and Sensing Technologies (BEST) group's laboratory and toured the James Watt Nanofabrication Centre and the main building of the University.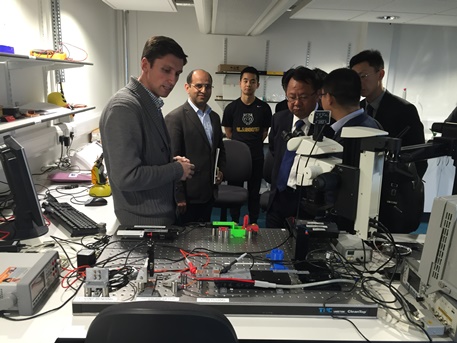 Professor Cooper said: "We were delighted to host the delegation from Wuxi Huishan District and to show them some of the groundbreaking graphene research we have here at the University of Glasgow, especially from the lab of Dr Dahiya. We look forward to collaborating with the Wuxi Development Zone and extending our partnerships in China"
Currently Wuxi is designated as an investment grade city, and has two large industrial parks devoted to new industries. Manufacturing centres on textiles currently but there are also projects to move to electric motor manufacturing and MRP software development. Wuxi is the solar technology hub in China with two major photovoltaic companies are based in the city.
---
Media enquiries: liz.buie@glasgow.ac.uk / 0141 330 2702
First published: 20 April 2016