New Research Chair will tackle the structural integrity of nuclear power stations
Published: 7 April 2016
Professor Chris Pearce has been appointed to the university's new Royal Academy of Engineering / EDF Energy Research Chair in Computational Mechanics for Nuclear Power Engineering.
Professor Chris Pearce, Professor of Computational Mechanics at the University of Glasgow, has been appointed to the university's new Royal Academy of Engineering / EDF Energy Research Chair in Computational Mechanics for Nuclear Power Engineering. The five-year post will be used to develop new predictive modelling techniques for structural integrity assessment in civil nuclear power stations.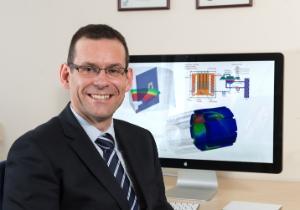 Professor Pearce specialises in computational analysis of materials and structures, applied to problems ranging from safety critical structures to biomechanics. Over the last six years, he and his group have forged a successful collaboration with EDF Energy, developing a unique predictive modelling capability for crack propagation in nuclear graphite. This represents a key component in EDF Energy's life extension programme for its fleet of nuclear power plants. This award will enable him to extend this work to the structural integrity of other key components of the UK's ageing nuclear power plants and to tackle new challenges in the next generation of reactors.
Professor Pearce comments: "I'm honoured and delighted to receive this prestigious award and look forward to working with EDF Energy and the Royal Academy of Engineering to tackle some of the key challenges in structural integrity assessment for civil nuclear power. This is an exciting opportunity for me and my research group to undertake fundamental research and translate it to industrial practice, in order to help secure the UK's electricity supply."
The Academy's Research Chair scheme aims to strengthen the links between industry and academia by supporting exceptional academics in UK universities to undertake use-inspired research that meets the needs of the industrial partner.
Professor Ric Parker CBE FREng, Chair of the Academy's Research Committee, said: "We are delighted to support this Research Chair with EDF Energy. Professor Pearce's research will have many benefits for the safety and longevity of nuclear power plants in the UK, and I'm sure it will lead the way for engineers the world over."
The Principal and Vice Chancellor of the University of Glasgow, Professor Anton Muscatelli, said: "I am delighted that Professor Pearce has been awarded a Research Chair by the Royal Academy of Engineering. This is recognition of the world-class research being undertaken by him and his group, and the collaboration with EDF Energy demonstrates the substantial impact and significance of the University's research."
Dr Manus O'Donnell, Head of R&D for EDF Energy Nuclear Generation, said: "Nuclear power will play an important role in support of a sustainable decarbonised electricity generation system in the UK. Life extension and new build will require R&D to address and underpin the technical, scientific and engineering challenges that it will present. We are delighted to work with Professor Pearce and the University of Glasgow to expand the impact of their advanced modelling approaches to key structural integrity challenges".
---
First published: 7 April 2016