Honorary Degree awarded posthumously to Scots writer William McIlvanney
Published: 4 April 2016
Scots author William McIlvanney has been honoured with a posthumous honorary degree – a Doctor of Literature (DLitt) - at a memorial service in the University's Bute Hall.
Scots author William McIlvanney has been honoured with a posthumous honorary degree – a Doctor of Literature (DLitt) - at a memorial service in the University's Bute Hall.
His daughter, Dr Siobhan McIlvanney, received the degree on her father's behalf.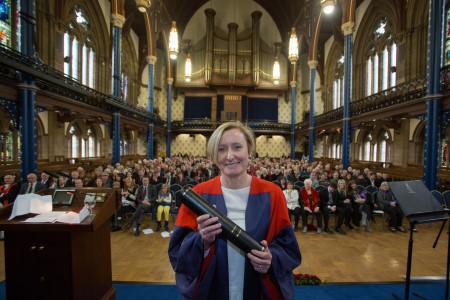 Professor Gerry Carruthers, Francis Hutcheson Chair of Scottish Literature, told the gathering of around 300 people: "Only rarely do universities award degrees of any kind posthumously. Before Willie McIlvanney died he had agreed to accept an honorary Doctor of Letters degree from the University of Glasgow. I first asked Willie in 2014 if he'd be willing to be so honoured and I well remember the pleasure in the eyes of a man not readily given to pomp and ceremony. In the final weeks of his illness, Willie wrote formally to accept the degree but the letter was never sent and was found later by his family."
Professor Carruthers added: "William Angus McIlvanney, author of nine books of fiction, three books of poetry, radio and television scripts and dozens of pieces of journalism, was the winner of the Geoffrey Faber Memorial Prize, the Whitbread prize, the Glasgow Herald People's Award and Silver Daggers for his crime fiction; in 2013 he was awarded the Saltire Fletcher of Saltoun Award, for his 'outstanding contribution to Scotland's life and culture'.
He continued: "We have lost a writer who was peculiarly approachable, who as a man never forgot that he was part of a complicated society, and who took great delight in good company. But all of these qualities pertain and endure in the work he has left behind."
The degree was conferred by Vice-Principal and Head of the College of Arts Professor Robby O Maolalaigh, who also presented a quaich, on behalf of the university, to Siobhan Lynch, the late writer's partner.
Fellow crime writer Val McDermid paid tribute to the "tartan noir" author, best known for his Laidlaw trilogy, who died in December 2015, aged 79.
"I doubt I would be standing here today if it hadn't been for William McIlvanney. He shouldered open a door."
The service was introduced by his long-time friend, journalist and broadcaster Ruth Wishart.
Actor David Hayman read an excerpt from Shakespeare's King Lear, which he said was McIlvanney's favourite play. After also reading part of a McIlvanney poem from Weddings and After, he said: "Willie you embellished and enriched our lives. Thank you. A light has gone from the earth with that passing. Take care, big man."
Traditional musician Sheena Wellington, who sang the Robert Burns song A Man's A Man For A' That at the opening ceremony of the Scottish Parliament in 1999,sang My Nanie's Awa and the Robert Burns song The Lea Rig.
McIlvanney's daughter Siobhan McIlvanney and his brother, sports journalist Hugh McIlvanney, also spoke at the service.
There were also tributes from writer and journalist Allan Massie, whose words were read in his absence by Jenny Brown, McIlvanney's agent; Francis Bickmore of Canongate publishing company which recently republished McIlvanney's books; writer Ali Smith; and sports journalist Hugh MacDonald.
The son of a miner from Kilmarnock in East Ayrshire, William McIlvanney studied English at the University, graduating in 1960.
He worked as a teacher before devoting himself full-time to writing. His crime novel Laidlaw, published in 1977 is credited as being the first example the Scottish crime fiction genre which became known as "tartan noir", although – as Professor Carruthers acknowledged - McIlvanney disliked this term and saw "police procedural" merely as another genre to be used in his characteristic exploration of the bad things humans do to one another.
---
Media Enquiries: liz.buie@glasgow.ac.uk / 0141 330 2702
First published: 4 April 2016