Inauguration ceremony for Glasgow-Nankai Joint Graduate School
Centuries-old links between Scotland and China were further strengthened today (Wednesday, October 21, 2015) with the celebration of the University of Glasgow-Nankai University Joint Graduate School at an inaugural ceremony in China.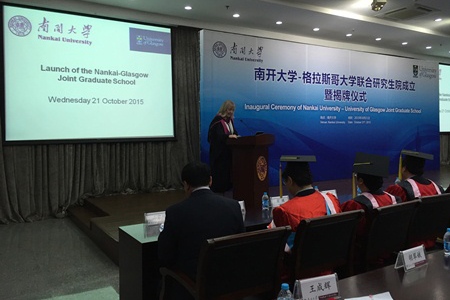 ‌
The Joint Graduate School is the first postgraduate higher education programme to be set up on a Chinese university campus in partnership with a UK institution.
Its first intake of postgraduate students will study a two-year MSc degree in either Environmental Management, International Relations or Urban and Regional Planning.
The programmes will be taught in English, at Nankai, by academics from both the University of Glasgow and Nankai University. The dual Masters qualification will be awarded by each university in what is seen as a groundbreaking initiative which offers students the benefits of internationally-excellent teaching and research.
Nankai University's President Gong Ke told attendees at the inaugural ceremony at his university that the combination of Eastern and Western education would be beneficial to the Joint Graduate School's students.
"We shall be contributing as much as we can to support the development of the Joint Graduate School, to enrich the subjects offered by the school, and to encourage our joint research. By doing this, we shall boost the international impact of postgraduate education and the comprehensive strength of our research."
President Gong Ke also paid tribute to one of the University of Glasgow's most famous alumni, economist Adam Smith, whose work "The Wealth of Nations" had been translated 200 years later by Nankai University's Professor Yang Jingnian, leading to it becoming one of the most influential Western works in contemporary China.
Professor Anne Anderson, Vice-Principal of the University of Glasgow, paid tribute to the strong relationships and trust between the two universities which had helped them create a joint vision – "an excellent set of postgraduate courses delivered by leading academics from our two great universities".
The links between Scotland and China – and the University of Glasgow and China in particular – went back many years, she said: "University of Glasgow graduates first visited China nearly 300 years ago. In the early 1700s, John Bell, a doctor and traveller, was part of the Russian Embassy to China. In the 1750s, George Bogle, an adventurer and diplomat who was a graduate of the University of Glasgow, visited China and tried to establish diplomatic relations with the Qing Emperor. So colleagues who are here in Nankai today from Glasgow are part of a long tradition."
In a video address, Professor Anton Muscatelli, Principal and Vice-Chancellor of the University of Glasgow, spoke of the growing research collaboration between the two universities and his hopes that the Joint Graduate School's provision of Masters programmes would expand.
In July, as part of a Scottish Government trade mission to China, Scotland's First Minister, Nicola Sturgeon, witnessed the signing of a Memorandum of Understanding between the University of Glasgow – her alma mater – and Nankai University, one of China's top research universities.
Find out more
---
Media enquiries: liz.buie@glasgow.ac.uk / 0141 330 2702
First published: 21 October 2015