Choral Stimulation hit the high notes on The Naked Choir
University of Glasgow a cappella singing group Choral Stimulation are proving to be pitch perfect with audiences thanks to their appearances on the BBC programme The Naked Choir with Gareth Malone.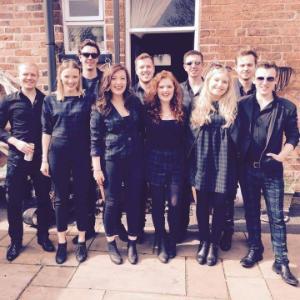 The group, formed at the University in 2008, are one of eight teams competing to be judged the best unaccompanied singers in the UK. Each of the teams are mentored by choirmaster Gareth Malone, BAFTA-award winning presenter of popular singing shows including The Choir.
Members Calum Fraser and Andy Greer have been with the group from the beginning. Along the way they have since been joined by Ben Langridge in 2010, followed by Rona Renton, Tony McHugh, Ewan Maclean and Caitlin Borthwick in 2012, and Peter Malone in 2013. The most recent additions are Hannah Merriman and Caitlin Sinclair, who joined at the start of the 2014 term.
Choral Stimulation's performance of Sinéad O'Connor's 'Nothing Compares 2 U' in episode three of the show drew huge acclaim from viewers on social media. Gareth Malone himself tweeted 'All hail Caitlin from Choral Stimulation' in praise of their arrangement of the song.
Choral Stimulation's 'Nothing Compares 2 U'
With three episodes to go until the show reaches its conclusion, viewers will need to wait to see whether the group make it through to the final of the judging process.
Choral Stimulation's Caitlin Borthwick said: "It was such an amazing experience and we still can't quite believe how far we've come. Working with Gareth was a once in a lifetime opportunity.
"Being a part of the competition gave us the opportunity to work with some incredible mentors who have worked in the West End and on shows such as the Voice. Although most of the group have graduated we still want to stay together and are very excited to see what the future holds after the show. We won't forget our roots and how much the University of Glasgow have supported us through our journey!"
Rona Renton said: "When we were told we had been selected as one of the final 8 choirs who had made it through to the televised round of the competition we were in shock, but we really decided to go for it and make the most of this experience. My family and I have always been a fan of Gareth's work and so I was obviously very excited to get to work with him. Throughout the competition he proved to be a very useful mentor, vocal and performance coach and as time went on a friend as well."
Calum Fraser said: "Choral Stimulation has provided me with some of the best uni memories I've had and I will always be proud to have sung as part of this team.
"Gareth was a great person to work with. He was encouraging, brutally honest and a task master. His guidance was firm but he always allowed us our space to do our own thing. We also got him hammered on whisky – an unforgettable experience!"
You can find out more about Choral Stimulation on their website at choralstimulation.wordpress.com/ and follow them on twitter using the handle @cstimulation. A new website is currently under development, and the group are working on new music videos.
The Naked Choir with Gareth Malone is on BBC Two on Tuesdays at 9pm and previous episodes are available on BBC iPlayer at www.bbc.co.uk/programmes/b06dqdsp
---
Media enquiries: ross.barker@glasgow.ac.uk / 0141 330 8593
First published: 12 October 2015