Owners of Burns's favourite "howff" donate collection of the Bard's books to the Solway Centre
Published: 5 October 2015
Owners of Burns's favourite "howff" donate collection of the Bard's books to the Solway Centre
Dumfries couple Gordon and Maureen McKerrow, who own Robert Burns's favourite pub, "The Globe Inn", have donated a highly-prized collection of books by and about Scotland's Bard to the University of Glasgow's Solway Centre for Environment and Culture.
The official handover of some 20 early and rare editions took place last week at the Henry Duncan building of the University's Crichton campus.
The family's passion for Burns dates back to Gordon McKerrow's great grandfather, a Southwick farmer who used to read Burns's poetry to his young family. One of his sons, Matthew H McKerrow, bought The Globe Inn in 1937 when its then owner got into financial difficulties during the Depression.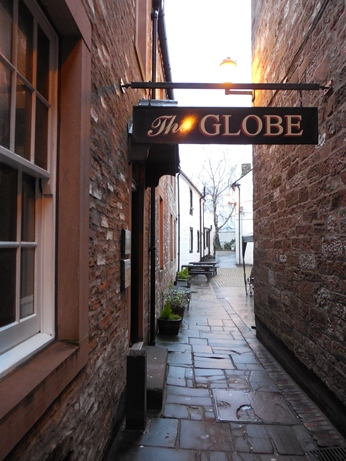 He had already bought various items of Burns memorabilia from the pub's owner to prevent them from being sold elsewhere. As a lawyer, he also had the foresight to leave a written note to ensure that The Globe would be kept in the McKerrow family's ownership or that it should only be sold on to another Burns lover.
"Burns referred to The Globe as his 'howff' – a place where he spent many a good time. He initially lived about six miles away at Ellisland Farm. The post would arrive by stagecoach in town in the afternoon and as this was around the time of the French Revolution, Burns was very interested in what was going on. He would go into town to get the latest news and at that time, the Globe was a central inn where people gathered and he would often stay overnight.
Gordon McKerrow and his father, both stockbrokers, carried out their business from their grandfather's office in Dumfries. When he retired, Mr McKerrow decided to find a good home for his remaining collection of books – he had already donated some to the Burns Howff Club.
"There is no point in them sitting on a shelf unless they are accessible to staff and students in the academic world," he said.
Dr Valentina Bold, Director of the Solway Centre for Environment and Culture and a Reader in Literature and Ethnology in the University's School of Interdisciplinary Studies, said she hoped to use some of the books in her own research.
"They will also be used by students on campus and potential postgraduates. They will also complement material we have already been given in the Urquhart Collection."
She picked out for particular mention an early edition of R H Cromek's Scottish Songs by Robert Burns, which dates from 1810.
"I can't help feeling that Burns would have been delighted to know that books from the pub he loved so well are being passed to students. The donation also sustains the connection between Burns, the pub and the Dumfries area."
---
First published: 5 October 2015