Students rate the University of Glasgow in the UK top 10 for careers advice
Published: 16 November 2015
The University of Glasgow has made it into the Top 10 of UK universities for student satisfaction with their careers service.
The University of Glasgow has made it into the Top 10 of UK universities for student satisfaction with their careers service.
A survey of 4,986 students carried out via social media asked which universities offered students the best careers support. Glasgow came in 7th, according to StudentCrowd.‌‌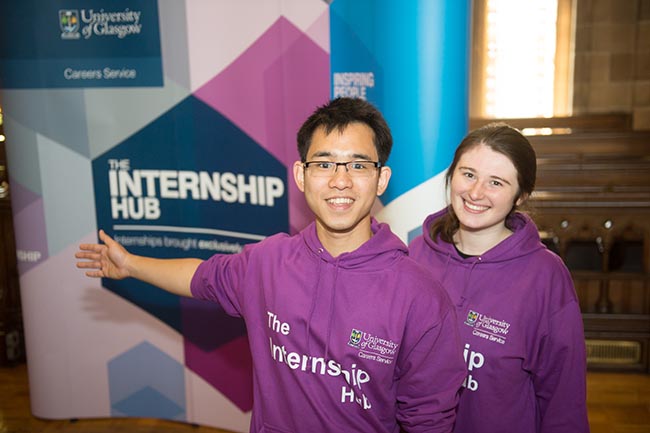 "Students constantly tell us that the key factor in applying to university is to improve their job prospects. The results of this survey reveal a significant disparity in the level of career services provided by universities. We've awarded the Top 10 to celebrate their success and to encourage the profession to aim for best practice," said Paul Humphreys, founder and marketing director of StudentCrowd.
Linda Murdoch, deputy director of the University of Glasgow's Careers Service, said she was delighted that the service's hard work had been recognised.
Recent innovations include a bid to harness the expertise and enthusiasm of its expansive alumni community in supporting students' career prospects through the launch of "The Network" – an online platform connecting alumni to students to offer careers advice, work experience and mentoring.
"To date, 1,900 alumni and 1,000 students have signed up to participate in the programme. We are also capitalising on the strength of our alumni community though feature presentations/ Q&A sessions such as the 'A Cup of Coffee with…' series which allows students to hear from notable alumni such as Amanda McMillan, Barry Mulholland and Christopher Brookmyre, and 'The First Tuesday Club', which features high-profile figures such as TV comedian Susan Calman, the legal teams of Manchester United and Celtic, and professional tennis coach Judy Murray."
The careers service has significantly expanded its 'Internship Hub' to facilitate 350 high-quality student internships in SMEs, charities, large graduate recruiters and the University itself.
"This year we have added features such as application coaching and video tutorials for students applying for internships; networking with fellow interns and opportunities to become an Internship Hub Ambassador; and a 'Yearbook' and 'Intern Archive' for inspiration from current and previous Internship Hub Achievers," added Ms Murdoch.
The Careers Service has hosted a number of innovative employer-led coaching sessions around the key job-seeking and application skills graduates need to excel in the job market, including the "My Interview Bootcamp" sessions led by major graduate recruiters, including Mott McDonald, IBM and EY.
"The Service has also developed innovative small group CV coaching sessions in collaboration with partners in the School of Computing Science; these sessions are led by our dedicated College Career Adviser specialists and co-delivered by employers such as JP Morgan, Morgan Stanley and Simul8 Process Simulation Software, and have led to a significant improvement in the quality of CVs produced by the School's students," said Ms Murdoch.
---
Media Enquiries: liz.buie@glasgow.ac.uk / 0141 330 2702
First published: 16 November 2015
Related Links