Women's equality battle in WW1
Published: 13 November 2015
The role women played in WW1 giving rise to greater empowerment and strengthening the Suffragette Movement is the focus of a star studded symposium this weekend.
"What men suffer through war is written in histories…but what women suffer is never written."
Those were the haunting words of American journalist Cora Harris, reporting from France for the Saturday Evening Post in 1914.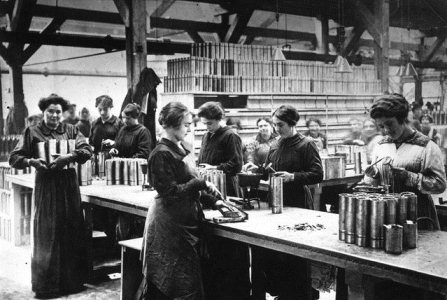 ‌Cora Harris was an American writer and journalist, and one of the first women war correspondents to report from France in WW1. She saw first-hand the atrocities of war, and during her time near the front line she felt the contribution women made for the war effort, and their rapidly changing roles, went largely unreported and unrecognised.
Between 1914 and 1918, an estimated two million women replaced men in employment, resulting in an increase in the proportion of women in full time work. This helped empower women during and after the war, changing widespread views and strengthening the Suffragette Movement.
The role women played in WW1 is the subject of a free all day event being held at the Women's Library in Glasgow tomorrow (November 14) to which the media are invited.
The event will feature guest speakers Kate Adie, former BBC Chief News Correspondent; Sarah Waters, award-winning author of novels including Tipping The Velvet, Fingersmith and The Paying Guests; and Professor Louise Welsh, acclaimed author and Creative Writing lecturer at the University of Glasgow.
The event organisers believe that as 2014 quite rightly marked the Centenary of the tragic loss of life in the trenches and battlefields of WW1, 2015 should pay tribute to the efforts women contributed to the Great War effort and the subsequent social changes which followed.
Commenting on the event, Professor Louise Welsh said: "Almost every village and town in Europe has a war memorial to the fallen of WWI, but the roles women played during conflict remain largely un-commemorated, and yet their efforts helped strengthened the empowerment of women, eventually giving rise to the Suffragette Movement in the United Kingdom.
"So this day-long symposium offers an opportunity to learn about some of these forgotten women and to remember their sacrifices and many achievements."
The WW1 Centenary symposium will include talks and workshops focussing on the role women played during the war and the aftermath. All the guest speakers should be available for interview tomorrow.
---
Media contact: jane.chilton@glasgow.ac.uk / 0141 330 7126
First published: 13 November 2015