First images from 3D Definitive Human Project are revealed
The first images of a collaboration between the University of Glasgow and the Digital Design Studio (DDS) at the Glasgow School of Art (GSA) to build a 3D Definitive Human were unveiled today as the Royal College of Surgeons of Edinburgh (RCSEd) joined the team involved in the project.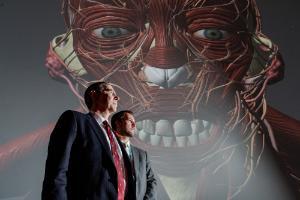 Dr Paul Rea, from the University's School of Life Sciences, is the lead anatomist involved in the project, which sees digital anatomical models being created from various anatomical references, including precise medical scans of the University's donor cadavers in the Laboratory of Human Anatomy.

The ground-breaking model, which is being created by a team of international experts in 3D medical visualisation at the GSA's DDS is also supported by the Scottish Funding Council and NHS Education Scotland (NES). It builds on an initial international three year funded collaboration from NES, which received global recognition, to create a 3D anatomical head and neck model which was unveiled by Alex Salmond in April 2013.

The official partnership agreement with the RCSEd will result in the final model being potentially available to over 22,500 of its members across the globe, as well as to medical, dental and anatomy students.

The ultrarealistic 3D model of the Definitive Human, will lead to a step change in medical and surgical teaching, education and training since uniquely it will be interactive in real time, and thus enable virtual dissection and re-assembly supporting study, pre-operative planning and surgical simulation. Work on the skeleton is complete and within the next two years the musculo-skeletal mechanics, viscera and anatomical systems will be completed.

Professor Tom Inns, Director of The Glasgow School of Art, said: "We are delighted that the Royal College of Surgeons of Edinburgh is to partner our Digital Design Studio in this ground-breaking project. The Royal College of Surgeons of Edinburgh strives to be at the forefront of surgical education and through this collaboration they will both contribute to and benefit from an innovation that will lead to a step change in anatomical education."

Mr Ian Ritchie, President of the Royal College of Surgeons of Edinburgh, said: "Effective surgical treatment starts with a sound understanding of anatomy. We believe that the DDS 3D Definitive Human Project is a ground breaking approach to understanding anatomy which will be fundamentally important to our UK and International Fellowship. We are pleased to be able to support this important project."

Craig McIllhenny, Surgical Director of the Faculty of Surgical trainers at RCSEd, added: "The 3D Definitive Human takes the learning out of the operating theatre. For a trainee to be able to see the anatomy of an intervention 'virtually' would make initial patient interventions much safer."

David Felix, Postgraduate Dental Dean, NHS Education Scotland, said:"NES welcomes the ongoing development of the definitive human which will have applicability across a wide range of healthcare disciplines, This is an exciting initiative which builds upon the head and neck resource that was only made possible by the support of NES."

It was also confirmed today that in the coming weeks the 3D Head and Neck Anatomy, which is already being used in dental teaching, will be available for students in Scotland as a pc download to facilitate personal study.

The 3D Definitive Human is expected to be ready to be tested on beta test sites (including the teams at Torbay and Plymouth hospitals under the expert guidance of their Director of Education, Dr Matt Halkes) in late 2017 and introduced into full surgical and anatomical training the following year.


---
For further information on the 3D Definitive Human contact project lead, Brian McGeough of The Digital Design Studio at The Glasgow School of Art: B.McGeough@gsa.ac.uk / +44 (0)141 566 1464
First published: 6 November 2015