Former athlete Tanni Grey-Thompson receives honorary degree
The University of Glasgow conferred an honorary degree on Baroness Grey-Thompson, the former athlete and incumbent Member of the House of Lords.
Baroness Grey-Thompson is one of Britain's most-successful disabled athletes, winning 11 gold medals, four silver and a bronze across five Paralympic games, and 13 World Championship medals.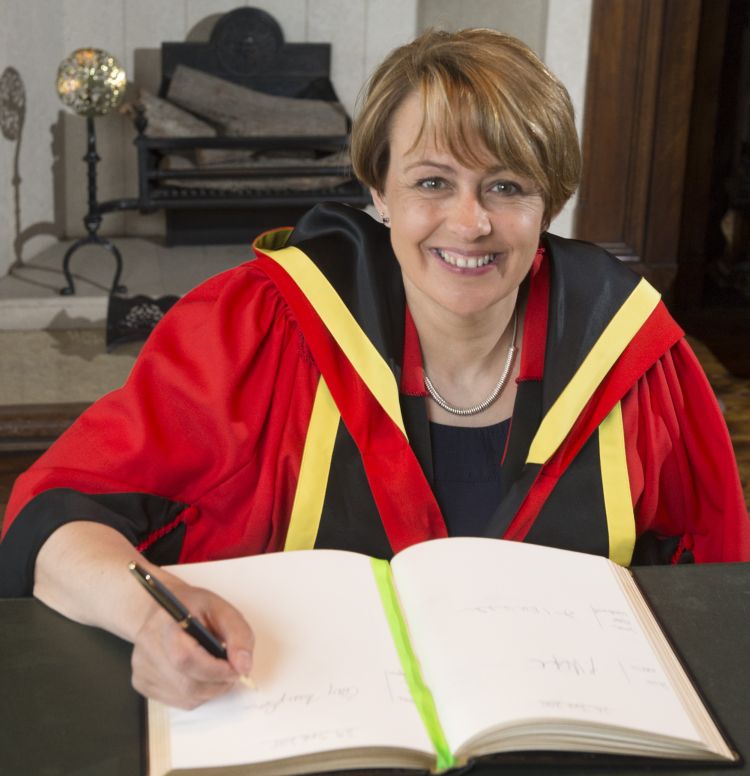 Since retiring from sport she has worked in television, presenting on BBC Wales and BBC One, and sat on numerous boards, including the National Disability Council, the Sports Council for Wales. She is a director of UK athletics and a member of the board of the London Marathon, in which she has competed six times.
In 2010 Baroness Grey-Thompson was appointed to the House of Lords where she serves as a non party political crossbench peer in contributing towards debates in the House. Mostly recently she has contributed to the Welfare Reform and Legal Aid Bill.
Baroness Grey-Thompson was conferred with her honorary degree at a ceremony in the Bute Hall on Monday 29 July by Professor Frank Coton, Vice Principal of Learning and Teaching.
In conferring the degree, Prof Coton said: "Tanni Grey-Thompson says that she's a mum, she's Welsh, she's disabled and she used to be an athlete. As you will hear, the words "used to be an athlete" slightly understate her achievements as one of Britain's greatest ever Paralympians.
"Today, Tanni remains active in sport, she has recently been appointed as Chair of UK Active which promotes physical activity for health, she sits on the Boards of the London Marathon, Transport for London and the London Legacy Development Corporation. She supports numerous charities and was Chair of the Women's Sports and Fitness Foundation Commission on the Future of Women's Sport. Tanni has received numerous honours including an MBE, an OBE and a DBE and was appointed to the House of Lords in 2010 as a crossbench peer.
"In 2014, ahead of the Glasgow Commonwealth Games, Tanni honoured us by delivering the inaugural Andrew Carnegie lecture here in the Bute Hall. It is time now for us to honour Tanni."
---
Media enquiries: media@glasgow.ac.uk / 0141 330 3535
First published: 29 June 2015