Mountaineering professor puts Sherpas under occupational health spotlight
Published: 8 June 2015
As tough jobs go, guiding tourists up and down the dangerous peaks of Mount Everest and the surrounding Himalayas must be high up the list.
As tough jobs go, guiding tourists up and down the dangerous peaks of Mount Everest and the surrounding Himalayas must be high up the list.
However, there has been little research on the occupational health of the Nepalese Sherpas that make a living scaling the world's tallest mountains on a regular basis.
Now the health effects of this strenuous and dangerous job have been thrown into sharp relief thanks to Professor Ewan Macdonald of the University of Glasgow who decided to do some investigations while on a climbing trip to Island Peak and Ama Dablam in Eastern Nepal to celebrate his birthday.
The results showed that respiratory, musculo-skeletal and eye symptoms are common – and one in four Sherpas had been involved in accidents. The researchers hope the findings will help promote better healthcare provision for Sherpas.
Sherpas are a people of the Himalayas who frequently put their life on the line for visiting climbers by breaking trails, fixing ropes, carrying enormous loads, putting up tents, feeding and protecting often unfit foreign climbers.
The study came about when Prof Ewan Macdonald, an occupational physician, researcher and Head of the Healthy Working Lives Group at the Institute of Health & Wellbeing and keen climber, found that there had been no previous studies concerning the occupational health of Sherpas and so decided to conduct his own.
He sought the help of a former student, Shrijana Shrestha, a Nepali and Master of Public Health graduate of the University of Glasgow now working in public health in Kathmandu and so a busman's holiday was booked.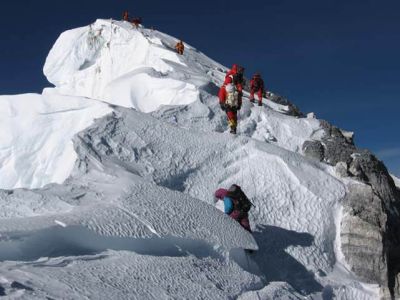 The lead Sherpa for the Team Ascent expedition to Island Peak and Ama Dablam, was Lakpa Rangdu Sherpa, who expressed interest in assisting with the study and by happy coincidence was a member of the board of the Himalayan High Altitude Welfare Association (HAMWA).
Lakpa and other leading high altitude climbing Sherpas had established the association as a self-help organisation to provide support to injured Sherpas and their families.
Ewan conducted a focus group with Lakpa and his Sherpa team at 4,800 metres altitude and used this to design a questionnaire. HAMWA agreed to contact their members and 131 volunteered to go to Kathmandu over a weekend to be interviewed by a research team organised by Shrijana. The analysis was done at the University of Glasgow and had ethics approval in Nepal.
The results of the study showed a high prevalence of respiratory, musculo-skeletal and eye symptoms – all requiring further investigation – and that 25% of Sherpas had been involved in accidents. There was also a number who had suffered illnesses endemic to Nepal, such as tuberculosis and cholera.
Prof Macdonald said: "This research paper is the first to look at the work and health issues of high-altitude climbing Sherpas.
"The risks of being a high-altitude climbing Sherpa have been highlighted by recent events, such as the Everest ice field avalanche which killed 17 above base camp in 2014, and which precipitated a strike by a workforce who have long been taken for granted and routinely exposed to significant risks such as the consequences of earthquakes.
"Nepal is a poor country with considerable health inequalities, and the income from climbing expeditions is important for the economy. While these Sherpas are well paid, this is only when they work and if injured, there is little support for them or their families.
"While health services to the wider Sherpa community have been developed by the Nepal government with the important support of charitable organisations, in the Sherpa region they are generally an underserved community with little attention to their occupational health and very little focus on the consequences of the injuries and accidents they sustain.
"This survey of workers was of a 'survivor population' in that we have no details on those who have stopped working through illness or injury. There is no system in place for recording work-related illnesses and accidents in this unique occupational high-risk group. Since this study one of my co-authors has been injured in an accident on Nanga Parbat in Pakistan.
"The aim of this study was to identify and draw attention to the considerable occupational hazards of working as a climbing Sherpa and also to the similar problems experienced by the many porters who are much poorer. Hopefully it will stimulate better general health care and occupational health and safety services for these workers and their communities. We hope to undertake further research jointly with our friends in HAMWWA and the Sherpa community."
The study is published in the International Journal of Occupational Safety and Ergonomics.
---
Media enquiries: stuart.forsyth@glasgow.ac.uk / 0141 330 4831
Related links
First published: 8 June 2015