The hot new technology to take "cloud" computing to the next level

Society's ever-increasing demands for information and data storage are to be the focus of a new centre for training researchers who will seek to develop innovative laser technology to take "cloud" computing to the next level.
The University of Glasgow and Queen's University of Belfast, along with 12 industry partners, are creating a cutting-edge centre for training an initial 50 PhD students in integrative photonics and its applicability to data storage and information processing.
The Centre for Doctoral Training (CDT) in Photonic Integration for Advanced Data Storage will receive funding worth £8.1 million, including £3 million from the Engineering and Physical Sciences Research Council; the remainder will come from the two institutions involved and industry partners, including the Department for Employment and Learning in Northern Ireland.
The CDT is being created to address skills shortages in nanofabrication and photonic integration. Photonic integration is similar to electronic integration and involves the integration of many different types of optical components on a common platform. Lasers, modulators, detectors, multiplexers and optical amplifiers are examples of optical components that need to be integrated.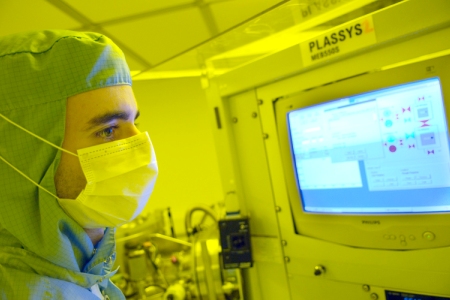 The Centre's focus will be on developing highly-manufacturable photonic integration technologies related to the magnetic storage of digital information. However, it is anticipated that the development of these technologies will be relevant to a wide spectrum of end-users – from telecommunications to biophotonics, in which optical technologies are applied to living organisms and health care.
The ability to store digital information has become a growing concern, as the memory capacity of even the smallest of devices, such as smartphones, has grown exponentially.
Professor John Marsh, Head of the School of Engineering at the University of Glasgow, explained: "There are two types of storage: traditional hard disk drives (HDDs) that provide high density at low cost, and solid state drives (SSDs) that offer less capacity at greater price but are more power efficient and are therefore used in mobile devices. While much of personal computing and related electronic devices are moving to SSD, there is still increasing need for HDD in personal usage in the form of back-up drives, personal TV systems and video recorders.
"The biggest growth sector is in what is called 'cloud' computing, where data is stored remotely. Already, almost all of e-commerce and the internet rely entirely on data farms filled with large numbers of 'server' computers and these use HDDs to store commercial and personal information – everything from bank details to social media. Cloud computing is increasing this need for storage; in 2010 the 'cloud' accounted for 25% of storage use and by 2020 it will account for more than 60%. This growth is driven by the use of mobile systems – for example a server is needed for every 600 smartphones or 120 tablet computers – which means that HDDs of increasing capacity are required."
To address these capacity issues, new technology will be required – and that is likely to be heat-assisted magnetic recording (HAMR), which uses electromagnetic energy to locally heat the disk to ease the process of writing data on to it. It would allow recording densities to continue to increase at the same rate as happened over the past decade.
HAMR will require the integration of photonic components such as lasers, waveguides and plasmonic antennas into the recording head. This exciting technology will be the focus of the new CDT where the key challenge for the researchers will be to make HAMR deployable as a low-cost manufacturable technology.
The developments required by HAMR will drive low-cost photonic integration and plasmonic technology into other industries and applications. The Centre for Doctoral Training will therefore bring together a critical mass of partners from universities and industries that can meet this challenge, integrating expertise from material physics through to semiconductor device manufacture. Its initial industry partners are: Seagate Technology; IQE plc; Oclaro Ltd; CST Global; JEOL; FEI Company; Cirdan Imaging; Kelvin Nanotechnology; AHS Ltd; Xytartex; Renishaw; and the Knowledge Transfer Network.
The CDT will offer new PhD students a unique training and research environment and places are expected to be highly sought-after. Students will carry out research in both institutions, spend time with industry partners and carry out a three-week study period at The Innovation Academy in Dublin, which specialises in fostering innovation and entrepreneurship skills among PhD researchers.
Find out more
---
Media Enquiries: Liz.Buie@glasgow.ac.uk/ 0141 330 2702/ 07527 335373
First published: 29 May 2014