John Smith Centre for Public Service to be created at the University
Published: 8 May 2014
A new Centre will "promote public service as a noble vocation" and provide a lasting, fitting and meaningful tribute to the life and work of John Smith
‌On the 20th anniversary of the death of the Labour Party Leader, the Rt Hon. John Smith Q.C., M.P., Baroness Smith of Gilmorehill is delighted to announce the creation of a new Centre to "promote public service as a noble vocation" and provide a lasting, fitting and meaningful tribute to the life and work of John Smith.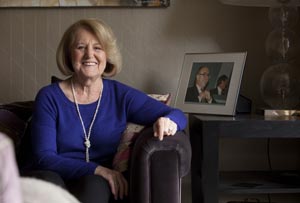 Appropriately housed at the University of Glasgow, where John and Elizabeth Smith both studied and first met, the John Smith Centre for Public Service will be operational by the end of this year. Its focus will be to encourage debate on and provide research into the value of public service, as well as attracting young people to contribute to public life, with a view to restoring the reputation of the role of public servants.
BBC News: John Smith Centre to open at Glasgow University

The Herald: Smith's legacy to inspire new generation of public servants
‌Commenting on the new Centre, Baroness Smith said:"The night before he died, John gave a speech at a Labour Party Gala Dinner in London concluding with the words: "The opportunity to serve our country - that is all we ask." It is that single phrase that encapsulates a lifetime of seeking to help others through efforts in public service."
"I am sure if he was still with us today it would trouble John greatly to find public life held in so low esteem. Given all he stood for, I believe John's life can still serve as an inspiration to a future generation who at present may not see the value of such work."
"I am hugely excited by this new initiative. The work of the Centre will seek to define what public service is in the modern age, how it should be conducted and how everyone can consider contributing to it, whether in local communities or on the world stage."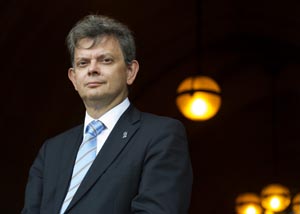 Professor Anton Muscatelli, Principal and Vice-Chancellor of the University of Glasgow said: "As a University we are delighted to be part of an initiative for which we think we are the perfect home. John Smith was one of our most distinguished alumni. A bust of his image has pride of place in the Glasgow University Union where he debated and discussed some of the most vital issues of the day. His influence and impact were, and are, profound. It is clear that we now live in an age of crisis and renewal. We should focus on the opportunities for renewal and creating the institutions and ideals that can drive improvement across society. The John Smith Centre for Public Service will be a suitable vehicle to deliver on these aims."
The former senior civil servant and Cabinet Secretary Lord Gus O'Donnell added his support. "I am delighted that the John Smith Centre for Public Service will be based at the University of Glasgow, the alma mater of John and his wife, Elizabeth, and my first employer. The new centre can take forward John's vision by examining how politicians and public servants can best serve their country and how the best can be attracted to these noble professions. It is an excellent and fitting initiative to mark one of our leading politicians.
The John Smith Centre for Public Service will soon begin the process of recruiting a director to oversee its work and also to secure funding for its research programme for 2015.
---
Media enquiries: media@glasgow.ac.uk, +44(0) 141-330-7126
Background Information:
Rt Hon. John Smith, Q.C., M.P. was born in Ardrishaig in Argyll, Scotland on 13th September 1938. He trained as an Advocate and was first elected to Parliament in 1970 as Labour member for North Lanarkshire. He served in the governments of Harold Wilson and James Callaghan, and was appointed to the Cabinet as Secretary of State for Trade in 1978. In opposition, he served in Labour's Shadow Cabinet as Energy and then Trade Secretary, before being appointed Shadow Chancellor by Labour Leader Neil Kinnock in 1987. John was elected as Leader of the Labour Party and the successor to Kinnock in 1992 and immediately began a process of party reform that saw the introduction of one member, one vote (OMOV) in 1993. He died suddenly of a heart attack in London on 12th May 1994.
The University of Glasgow is the alma mater of both John Smith and his wife Elizabeth; it is where John Smith honed the skills and political beliefs that would drive his life, particularly in the debating chamber of the Glasgow University Union; the is where the couple met; and it is now the territorial designation of Elizabeth Smith, Baroness Smith of Gilmorehill, Gilmorehill being the site of the University.
Since John Smith's death, Baroness Smith has set up and been a driving force behind the work of the John Smith Trust, which is now creating the John Smith Centre for Public Service.
The John Smith Centre for Public Service will be research driven with three elements at its core: insight, inspiration and influence.
Insight
The Centre will become the home of data, research, and good practice connected to the idea of improving the reputation of public service.
Inspiration
The Centre will take on a thought leadership / advocacy role, seeking to gain media coverage and provoke debates about public service with a view to inspiring people to think more about public life and as a consequence get involved.
Influence
The Centre will work with individuals, charities, academic institutions, businesses and governments to change perceptions of how public service is understood and valued.
First published: 8 May 2014