Making medicine personal - State-of-the-art imaging centre to transform medicines.
Published: 3 March 2014
Patients are to benefit from £3 million funding for a new imaging centre which will contribute to the creation of personalised medicines
Patients are to benefit from £3 million funding for a new imaging centre which will contribute to the creation of personalised medicines.
Health Secretary Alex Neil MSP announced the funding, which will be part of the University of Glasgow's £15.3 million Clinical Research Facility on the New South Glasgow Hospital site.
Personalised medicine involves the tailoring of medicines to the needs of individual patients based on their genetic makeup.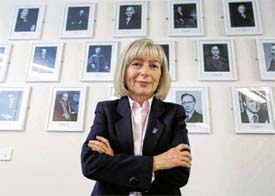 The new centre will house advanced imaging equipment that offers a way to look at large groups of patients and find ways of predicting which treatments will be the most efficient and effective.
Mr Neil said:
"Personalised medicine holds huge potential in the development of new treatments for diseases such as cancer.
"It is one of the most significant advances in 21st century health research as it looks to move away from the one treatment fits all approach to one where a patient's specific genetic makeup determines the most appropriate treatment.
"This investment shows the Scottish Government's support for the important work of the University of Glasgow and NHS Greater Glasgow and Clyde to bring innovation into our NHS.
"This imaging centre will ensure that Glasgow continues to be at the forefront of research – allowing them to use new technology that offer a glimpse of the future of personalised medicine."
Professor Anna Dominiczak Vice-Principal and Head of College of Medical, Veterinary & Life Sciences, University of Glasgow said,
"The development of the field of Stratified Medicine will be critical to the long term ability of healthcare systems around the world to meet the growing challenges of an aging population and advanced treatment options.
"Above all, it will benefit patients. Here in Scotland we are uniquely placed to be pioneers in this field and the new South Glasgow Hospitals Campus provides an unrivalled opportunity to promote collaborative stratified medicine across Scotland, the UK and beyond.
"The awarding of £3 million capital funding will enable academic developments, particularly a new Clinical Research Facility for stratified medicine clinical trials and a state-of-the-art research Imaging suite, to proceed rapidly to ensure this infrastructure is in place when the new South Glasgow Hospital opens in 2015."
Grant Archibald, NHS Greater Glasgow and Clyde Lead Director for Acute Services, said: "We very much welcome this investment. The presence of such world class research and development facilities will allow us to fully exploit the exciting opportunities of the New South Glasgow Hospitals to deliver benefit to patients locally, nationally and internationally."
Diseases, such as cancer, present slightly differently in each individual. This equipment allows researchers to study the disease in much more detail, giving more certainty as to which particular drug will stop it in its tracks.
Personalised medicine offers the potential to improve the targeting of effective treatments to individuals or populations according to their characteristics.
---
Stratified Medicine Innovation Centre
First published: 3 March 2014